The Power Cultural Currency—Amsterdam News 2017 Man Of The Year Talib Kweli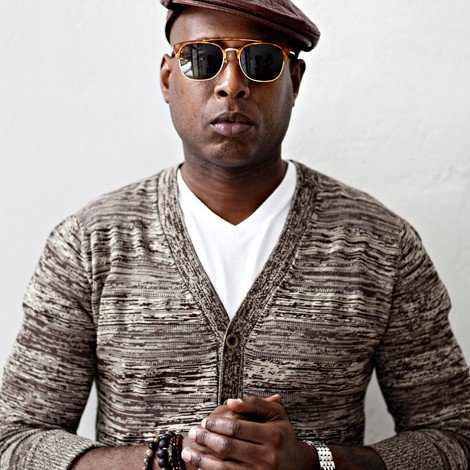 "Hip-hop is beautiful because it shows us the complete truth," said Talib Kweli, known for socially conscious lyrics and activism.
This Brooklyn based and raised raptavist has a loyal global following, and they come from his eight solo albums, his sold-out local and international shows, his interviews in The New York Times and on CNN (where he famously argued with Don Lemon about the media coverage of Ferguson protests) and from any number of social and traditional people-inspired/run/targeted mediums. Kweli has been able to mold and develop social justice issues that have moved conversations from basic to policy-driven activism.
His love and use off "cultural currency" is instilled in him, he told the Amsterdam News.
"I come from a Black, nationalist cultural background," he said. "We always celebrated Kwanzaa, there were books on African history, African art. We were made aware of Black heroes and people of color—Black and Latino and other races who have contributed to history—that led me to be a fan of artists who see the connection between community and art, like Nina Simone, Bob Marley, Stevie Wonder and Gil Scott Heron, and this is the tradition that I try and follow."
On a national tour now and just days after another Brooklyn show in the wake of magnificent block party at Restoration Rocks with Les Nubians Kweli, who once hesitated to call himself an activist, told the Amsterdam News that his music is the vehicle with which he drives his social, civic, political and cultural philosophy home.
Whether it is flying down to Ferguson to join the raging protestors who rallied for justice in the police-shooting death of Michael Brown in 2014, going to Washington D.C. as Trump formed an unpopular government or demanding justice for political prisoners, Kweli is one of those activists who takes an honest position, whether it is popular or not.
He said, "I have now, at 42 years old, embraced the idea of me being an activist, most of my career I did not, I thought I was an entertainer leading the life of incredible privilege. I was raising money for the real activists. I said let me show you who the real activists are ... but then I started getting involved, raising money, showing up at things, especially when I got involved in Prisoner of Conscious."
Touring, speaking, protesting and performing melds into Kweli having his very own Javotti Media record label. His roster includes artists such as Jessica Care Moore, Outernational and K'Valentine.
Career collaborations include with Mos Def, aka Yasiin Bey, as Black Star; with Hi Tek, Rick Ross, Melanie Fiona, Anderson Paak and RZA; and on albums such as "Reflection Eternal," "Prisoner of Conscious," and "Radio Silence."
"A Man of the People, musician, activist and wordsmith, Talib Kweli, Man of the Year, has embodied the spirit of his calling and name: student and seeker of truth and knowledge," said Dr. Brenda Green, who is not just a fan, but chair of the English Department and executive director of the Center for Black Literature at Medgar Evers College—and the very proud mother of Talib Kweli.