Ewing returns home-with a brand new start
Vincent Davis | 1/11/2018, 12:41 p.m.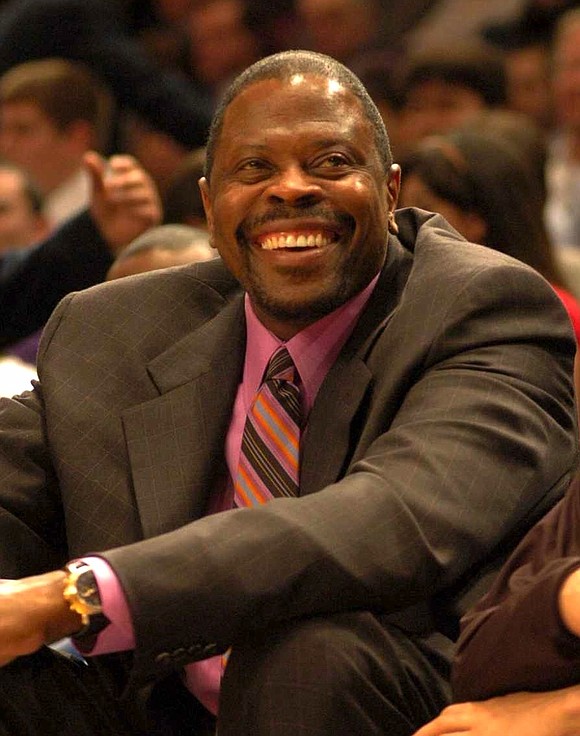 Patrick Ewing has entered Madison Square Garden as a college basketball player, a New York Knick for 15 years, an opposing player for two and as an opposing assistant NBA coach for another 15.  Tuesday, Ewing visited the world's most famous arena with his new title, head basketball coach of the Georgetown Hoyas, his old alma mater. 
Georgetown played their old rival, St. Johns University, a 69-66 victory for the Hoyas that not only had Ewing on the coaching sidelines, but also former Johnnie player, Chris Mullin. They competed against each other during their college days in some of college basketball's most historic battles and in their pro careers.
"It's gone full cycle," said Ewing, 55, a Hall of Fame 7-foot-0 center who could look up and see his No. 33 hanging from the MSG rafters, along with those of the other Knicks greats. Both he and Mullin, also a Hall of Famer, are currently rebuilding the basketball programs that their former Hall of Fame coaches, John Thompson and Lou Carnesecca, built, giving foundation and notoriety to the Big East Conference. 
As a college player, Ewing took his Hoya team to three NCAA championships, winning one. He was hired last April to lead his former team. It's his first job as a head coach. Since retiring as a player in 2002, Ewing held positions as an NBA assistant coach with the Washington Wizards, the Houston Rockets, the Orlando Magic and the Charlotte Hornets. 
Mullin, 54, the UPI College Player of the Year in 1985 and a five-time NBA All-Star, took over his alma mater's basketball program in 2015. 
Ewing, drafted with the very first pick of the 1985 NBA Draft by the Knicks, was voted Rookie of the Year and was an 11-times NBA All-Star. He scored 24,815 points, 21 points per game, pulled down 11,617 rebounds, 9.8 per game and blocked 2894 shots, 2.4 per game. 
Tuesday's game at the Garden was reminiscent of Georgetown-St. John's games from the past, but with Ewing and Mullin in their new roles.
"It was a hard-fought game," said Ewing afterward. "Just like the old times. It was a knockdown, drag-out fight."
Referring to his past games against the St. John's coach he noted, "I've had ups and downs, a lot of good and bad memories against that guy. I was just happy to get the win."