Left in the cold: NYCHA residents suffer during winter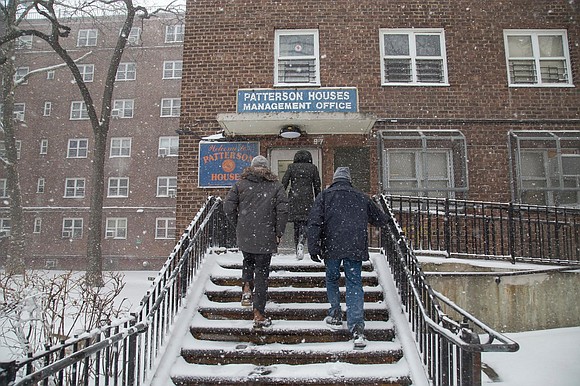 Janice Thompson, who lives on the 20th floor in NYCHA's Douglass Houses on the Upper West Side, wrapped her 79-year-old mother, who suffers from joint pain, in multiple layers in bed and used space heaters during one of the New York City's worst deep freezes that saw temperatures go down to the single digits at night.
Her son and daughter also had to endure the cold that was the result of NYCHA's failure to repair boilers in buildings across the city. Thompson's apartment is one of hundreds in at least 30 NYCHA properties that are literally left in the cold.
"I shouldn't have to live is a cold apartment if I am paying rent," Thompson said in a recent interview with the AmNews. "At night I had to sleep in my pajamas and rolled up blanket."
It wasn't until she called Comptroller Scott Stringer that NYCHA came a fixed the heat in her building. She says that now things are better but wonders what will happen next time.
Thompson's story is just one of hundreds from residents who reported a lack of heat in their city-owned apartments. Although headlines each winter call out private landlords for not providing residents with heat, NYCHA is now on the list of worst landlords.
Residents said that even after repeated calls to 311 and NYCHA, things have not changed. Complaints came in as soon at the new year began, during what forecasters called "bombogenesis" that brought bone-chilling below-zero wind chills
NYCHA's Facebook page continues to be bombarded with complaints from residents about the lack of heat in buildings. The numerous comments give an unfiltered scope of just how bad things are.
"My apartment is freezing now at this very exact moment, and I have an elderly mother and a small child," Joyce Torres said.
"Belmont Sutter Houses in Brooklyn hasn't had no hot water or heat since Friday," said Lillian Cruz. "There are elderly and small children here struggling through this frigid weather conditions, and no one has showed up to even look at the boiler."
Almeta Trammel said, "Melrose [Houses] has no heat. It's been off three days and now the water is off."
In response to the heat complaints, NYCHA spokesman Joseph Luciano said, "Staff is working to resolve the issue. Our residents deserve safe, warm homes in the winter, and our staff is working 24/7 to restore heat as quickly as possible. We must do better for our residents."
As of Wednesday, NYCHA reported that almost 40 repairs for heat, hot water and gas were going on or planned for NYCHA buildings across the city. Out of those repairs, nine were for heat. 
Last week, Stringer announced a new audit of NYCHA heating systems after reports of no heat in developments. He said NYCHA tenants also reported the lack of hot water, calling the situation a "crisis."
"We cannot be a city in which those with luxury towers are living in comfort, while those across the street in NYCHA complexes are deprived of heat and hot water," he said. "Unfortunately, heating breakdowns happen year after year, and the bureaucracy continues to play whack-a-mole with short-term fixes instead of permanent solutions."