Taking a knee with Tribeca-Grand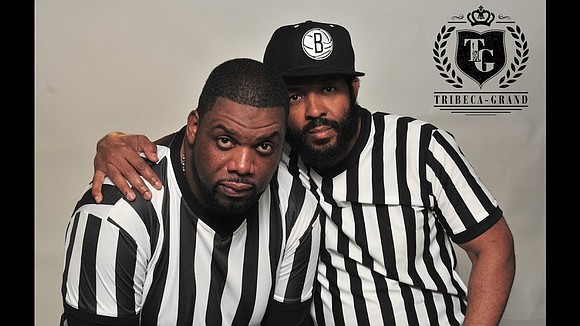 Hadn't had much interest in watching football lately, but that National Championship Game Monday was indeed a thrill ride. Seeing the ultimate game in the hands of an elusive quarterback with a canon for an arm served as a reminder of what we missed on the next level. Yeah, we had Cam, and Russell Wilson had an MVP type season, but injuries to Aaron Rodgers and the emerging Deshaun Watson decreased an already dearth talent pool. This fact was further exasperated, just between the lines, with the absence of No. 7. Based on talent alone and given it's been hailed by all as the most important position on a football squad, his forced absence hurt the overall product of the NFL. The league's loss however was a gain to quite a few others. In fact, a community was inspired. Minds awakened by a simple act of silent protest.
A new team has emerged to further along the cause. We introduce to you Tribeca-Grand. Composed of two accomplished solo artists, Bronx native Tribeca (MC, producer, songwriter and author) and Philadelphian Grand Agent (MC, lyricist, playwright and visionary), the duo took to the lab and created a theme song to the movement called "Take A Knee."
"The song itself was to remind people of the issue that sparked the movement, which is police brutality," said Tribeca. "Beyond that, we recognize not everyone relates to that issue, but we felt confident that everyone has an issue they feel as strongly about. We figured if people were able to get their own issue off their chest, the sharing of ideas could foster some empathy for one another."
As a stand-alone fact, in hip-hop circles these two talents combining efforts is newsworthy. Tribeca said, "Tribeca-Grand initially met back in 2004 while touring the United States on the 'Traditional Rap Tour' [with Camp Lo and Tajai, of Souls of Mischief]. From there we've collaborated over the years until we realized our careers were similar in story and the chemistry has been pretty on point from our first song together."
Grand Agent added, "We released a record inspired by that tour called 'Minivan,' featuring Camp Lo, and continued collaborating fairly regularly. Tribeca-Grand officially formed in 2014, the year we released our first project, an EP entitled 'MEGA.' In 2015, we released a March Madness-themed video and single called 'Go Hard.' That set up the current workflow with Tribeca handling all of the production and trading verses with me. Before 'iGo Hard,' I did all the vocals and Tribeca did all the music. To have help is definitely one of the reasons I was down to team up. At the same time, it was just an organic evolution."å
"Take A Knee" is the first single from their forthcoming album, "Sport of the Gods." With that as a title, their commentary on the sport that inspired the single was a must. Tribeca stated, "My perception of the NFL and the players has changed greatly. Though some of Kaepernick's peers supported his stance, it seemed that many players didn't care or just wouldn't jeopardize their work situation even though they privately wanted to. The game of football is a pastime, but this season I followed from afar.  Overall, my interest as a fan wasn't there. The owners and players' true colors were definitely on display for the world to see."
Grand Agent, however, offered a different take. "If anything comes to mind about the players, it would be that I was somewhat impressed that so many would even acknowledge a reality that they may not necessarily have to deal with in the same ways they did before celebrity," he said. "It began with a single player. And it could've very easily ended quietly with that player's blacklisting. So my perception would be that these guys are more grounded in the experience of their communities than it would seem. And that perception we get of the players as larger than life is in large part due to the work of the NFL. So the NFL, in a time such as this, might appear to be a distraction from the real issues as opposed to taking a knee being a distraction from the NFL."
Same team, differing stances, one goal! Salute.
Over and out. Holla next week. Til then enjoy the nightlife.