Dr. Maceo C. Dailey, eminent Black Studies teacher and historian
HERB BOYD | 1/18/2018, 5:38 p.m.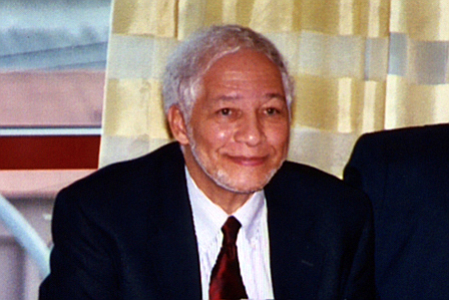 While looking for information on the life of Emmett Scott, one of Booker T. Washington's most loyal supporters, I stumbled on a book by Dr. Maceo Crenshaw Dailey Jr. Dailey, in 2013, published "When the Saints Go Hobbling In: Emmett Jay Scott and the Booker T. Washington Movement."
I had never heard of the book, which is not very long, and I was not familiar with the author. But when I learned of his background and that he died two years after the book's publication, I dropped my pursuit of Scott—which I hope is temporary—and focused my attention on Dailey.
My curiosity was further piqued when I read several remembrances of him from major educational institutions, government agencies and his colleagues at the University of Texas at El Paso, where he taught and was the school's first director of the African-American Studies program.
"Whenever Maceo C. Dailey Jr. walked into a room, his graceful stride gave evidence of his earlier years a star basketball player in Baltimore," one remembrance stated. "The athlete who became a scholar retained not only his fluid motion, but also the value of his demanding sport: a respect for others and belief in the importance of teamwork, diligence and maintaining focus on a basic objective."
A photo of Dailey as a high school phenome in Baltimore accompanies a list of glowing reflections, mostly from his long tenure at the University of Texas at El Paso.
From one of his family members, we learn that he was affectionately known as "Crenshaw" and was the first born of nine children to the late Maceo Crenshaw Dailey Sr. and Marguerite Britton Dailey. The relative added, "He was our fearless leader, mentor and friend, and we were just blessed to have him in our family for 72 years."
Dailey was born July 4, 1943, in Norfolk, Va. At the age of 6, he traveled with his parents to Baltimore. Rather than continue his extraordinary talent on the basketball court on which he was a standout player at Forest Park High School and on which he played for a year at Towson State University, Dailey decided that his route to success would be in the academic realm, not the rim.
At Towson, he obtained his Bachelor of Arts degree and later at Morgan State his master's degree. He earned his Ph.D. at Howard University, completing his doctoral dissertation on Emmett J. Scott, Booker T. Washington's secretary. This dissertation would be the main source for the book on Scott.
With degrees in hand, he began teaching at Towson High School in Baltimore, where he was at one time recognized as "Teacher of the Year." Then began a trail of institutions in which he taught African-American studies, including Boston College, Brown University, New York University, Morgan State, Spelman, Morehouse and Colby College.
For more than a score of years, he was an associate professor in the Department of History and director of the African-American Studies program at the University of Texas at El Paso.