Civil rights icon and renowned pastor, the Rev. Dr. Wyatt Tee Walker, passes at 88
Herb Boyd | 1/25/2018, midnight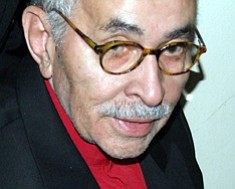 In "Parting the Waters," Taylor Branch's monumental study of the Civil Rights Movement, there is a long column of citations of the Rev. Dr. Wyatt Tee Walker. From page 245 to page 876, from Albany, Ga. to the March on Washington, you witness how indispensable and loyal the Rev. Walker was to Dr. Martin Luther King Jr. and the Civil Rights Movement.
After a long illness and an even longer fight for freedom and justice, the Rev. Walker joined the ancestors Tuesday, Jan. 23, at his home in Chester, Va. He was 88.
Best remembered as Dr. King's chief of staff, the Rev. Walker was the go-to guy, one responsible for the daily activities of the movement and Dr. King's campaigns. He carried out these duties with the same precision and detail he brought to his sermons, always mindful of bringing Scripture to the service of struggle.
That service of struggle was most often sermonized at Canaan Baptist Church of Christ in Harlem, where he was the senior pastor for more than 40 years.
Born Aug. 16, 1929 in Brockton, Mass. to John Wise and Maude Pin Walker, Walker attended elementary and high school in Merchantville, N.J. In 1950, he graduated from Virginia Union University with a Bachelor of Science degree in chemistry and physics. This year was the same year he married Theresa Ann Walker and they had four children. He received his Master of Divinity from Virginia Union's Graduate School of Religion in 1953, the same year he became pastor of Gillfield Baptist Church in Petersburg, Va.
Along with pastoring the church, he served as president of the NAACP in the city and director of the state's Congress of Racial Equality branch. As a leader of Petersburg Civil Rights Movement, he patterned much of the strategy and tactics on those used successfully in Montgomery. In 1958, he joined the Southern Christian Leadership Conference, and his rapid rise in the organization within a couple of years convinced Dr. King that he would be a significant force as executive director of the group.
The Rev. Walker's next appointment brought him into Dr. King's inner circle as chief of staff, a post he would hold until 1964.
He played an important role in the marches and demonstrations in Albany, Ga. and later in Birmingham, where he was arrested for participating in a Freedom Ride. But it was two years later as a key organizer in the March on Washington that he reached his pinnacle as a freedom fighter and civil rights activist.
As the urban centers of the nation became more politically intense, the Rev. Walker was back in Harlem, where he took the helm at Canaan Baptist Church of Christ. One of the most immediate results of his leadership was the dramatic increase in the congregation that leaped from 800 to 3,000. This increase in membership greatly enhanced his prominence in the community and might have been a factor in his being tapped as an urban affairs specialist to Gov. Nelson Rockefeller.