Civil rights icon and renowned pastor, the Rev. Dr. Wyatt Tee Walker, passes at 88
Herb Boyd | 1/25/2018, midnight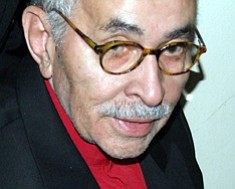 Besides his numerous duties, he found time to complete doctorate of ministry degree in 1975 from Colgate-Rochester Divinity School. There was also time to nurture his long passion for music and publish his first book, "Somebody's Calling My Name: Black Sacred Music and Social Change." In the book, the Rev. Walker traces the history of religious tradition from its ancestral roots to its impact on Black religious experiences in modern times.
"During the 1980s Walker continued his community activism," according to the website The Black Past Remembered. "He became a member of the National Committee on the American Committee on Africa. In 1988, he co-founded the Religious Action Network of Africa Action to challenge the repressive apartheid system in South Africa, and he served as chair of the Central Harlem Local Development Corporation, which built low income housing."
In an email the Rev. Al Sharpton recalled the Rev. Walker's influence and inspiration. "The passing of Dr. Wyatt Tee Walker marks the transition of one of one of the greatest social justice and theological minds of our time," Sharpton said. "Rev. Walker was the first chairman of the National Action Network and a man who mentored me as a civil rights and social justice leader, and while I am saddened by his passing, I am committed to carrying on his legacy. It is both a personal and global loss to me. May he rest in peace."
The Rev. Walker, in 1993, was named one of America's greatest preachers by Ebony magazine. A year later, he retired from Canaan. Over the succeeding years came a flood of honors, including induction into the Civil Rights Walk of Fame in Atlanta, Ga. in 2008, and in 2009 during the inauguration events in Washington, D.C. for President Obama, the Rev. Walker received the Keepers of the Flame award at the African-American Church Inaugural Ball.
"We are saddened by the passing of Rev. Dr. Wyatt Tee Walker," said Mayor de Blasio. "He was a fighter for freedom who dedicated his life to bending the arc of the moral universe toward justice. Harlem won't soon forget his work winning more affordable housing for his community."