Margaret Burroughs, artist and co-founder of DuSable Museum
Herb Boyd | 1/25/2018, 10:11 a.m.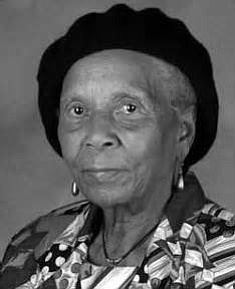 Besides her activities at the museum, she maintained a long-term relationship as a teacher at DuSable High School. Coinciding with teaching her classes at DuSable was her courses in the humanities at Kennedy-King College, the city's community college. In 1968, she taught art and culture at Elmhurst College. When Harold Washington became the city's first African-American mayor, he appointed Burroughs as the Chicago Park District Commissioner, a position she would hold until 2010.
Curating and managing other artists' productions was never an obstacle to Burroughs' own creative efforts. In one of her most famous linocuts, "Birthday Party," Black and white children are shown in a moment of jubilation. According to a review of the linocut, the work was deemed as typical of her broad, integrative outlook. "Through her career, as both a visual artist and a writer, she has often chosen themes concerning family, community, and history. 'Art is communication,' she has said, 'I wish my art to speak not only for my people, but for all humanity. This aim is achieved in 'Birthday Party,' in which both Black and white children dance, while mothers cut cake in a quintessential image of neighbors and family enjoying a special day together.'" The painting puts in visual form Burroughs' philosophy that "the color of skin is a minor difference among men which has been stretched beyond its importance."
The "Birthday Party" and its humanistic quest is a pervasive theme in her art, and it's not unusual to see a gathering of people in various colors. For example, "In the Faces of My People," she carved five people staring at the viewer. One of the women is all Black, three of the people are half Black and half white and one is mostly white.
According to Wikipedia, "While Burroughs is attempting to blend together the Black and white communities, she also shows the barriers that stop the communities from uniting. None of the people in 'The Faces of My People' are looking at each other, and this implies a sense of disconnect among them. On another level, 'The Faces of My People' deals with diversity, is one summary of the work. This review of her work was supported by an estimate from the Collector magazine website that described Burroughs' attempts to unify in the picture. 'Burroughs sees her art as a catalyst for bringing people together. This tableau of diverse individuals illustrates her commitment to mutual respect and understanding.'"
Approximately a month before her death Nov. 21, 2010, Burroughs was honored by the Art Institute of Chicago with its Legends and Legacy Award. Madhubuti read a poem that he wrote for Burroughs entitled "Master of Colors and Canvas." He recalled her as a one-of-a-kind educator, artist, institution builder and community leader. "When Margaret Burroughs spoke everyone listened," he said. "She was never for the elite. She was always on the frontline trying to do that which is best, good, correct and just for the great majority of people in this country and the world."