MET Orchestra Musicians performed free Musical Read-Along at Harry Belafonte Public Library
1/25/2018, 9:20 a.m.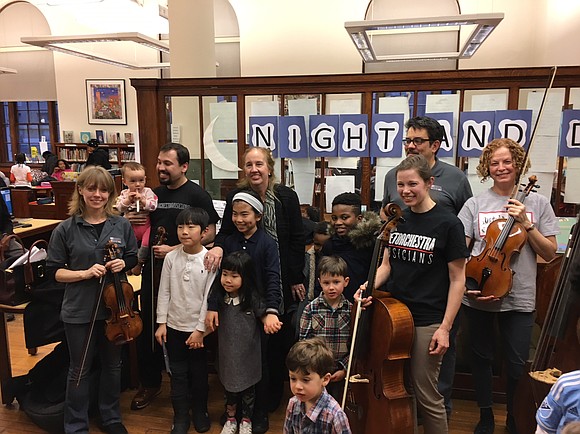 The MET Orchestra Musicians are dedicated to providing their fans with a beautiful and immersive experience of opera, in equal parts engaging audiences in behind-the-scenes activities and opening an unprecedented channel of communication between performer and listener. Members of the MET Orchestra are sought-after teachers, comprising large portions of the music faculties of all the major universities and conservatories in the New York metropolitan area. Former students of MET Orchestra Musicians can be found in virtually every performing arts organization in the country. In addition, a number of MET Orchestra Musicians dedicate time working with younger students, both privately and by assuming leading roles in youth orchestra and pre-college programs.
Individual members of the orchestra have traveled to all corners of the Earth, in equal parts performing and engaging underserved audiences. MET Orchestra Musicians have performed fundraisers for local public schools and engaged in outreach efforts, including teaching in Haiti and Central America and bringing South African students to New York for intensive study. In addition, MET Orchestra Musicians are coaches and teachers at some of the world's leading summer music festivals, including the Verbier Festival, where the coaching faculty has comprised MET Orchestra Musicians since its founding in 2000.
Local 802 AFM is one of the largest local unions of professional musicians in the world, working to promote artistic excellence and strengthen New York City's vibrant arts community by advocating for fair treatment and compensation of hardworking musicians and performers. They seek to organize a community of all musicians and aspiring musicians while advocating for the preservation and creation of opportunities for live musical performance, promoting recording and film scoring in New York City, increasing children's access to live music and high-quality music education, advancing the vital role music plays in our communities and ensuring that the musicians who are essential to New York City's economy and cultural life are able to continue to live and work here. For more information, visit www.local802afm.org.