State of Black America is strong, experts say
Leaders in Education, Civil Rights, Religion and Housing Discuss the State of Black America at Annual NNPA Conference
Stacy M. Brown (NNPA Newswire Contributor) | 1/29/2018, 6:05 p.m.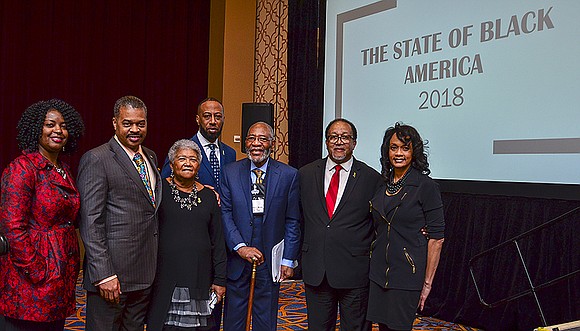 Four, preeminent Black leaders in America today, addressed the challenges and celebrated the success stories of the African American community, during a "State of Black America" forum at the 2018 National Newspaper Publishers Association annual Mid-Winter Conference in Las Vegas, Nevada.
Dr. Lezli Baskerville, the president and CEO of the National Association for Equal Opportunity (NAFEO), spoke passionately about the future of Historically Black Colleges and Universities (HBCUs), while Julius Cartwright presented a sobering, yet optimistic report from the National Association of Real Estate Brokers (NAREB).
And while Reverend Tony Lee, the pastor of Community of Hope A.M.E. Church, delivered fervent remarks about the strong state of the Black Church, it was a fiery, no-holds-barred speech from Dr. Amos C. Brown that brought the capacity crowd to its feet.
Brown, a civil rights icon, who serves as the senior pastor at the Third Baptist Church of San Francisco and president of the San Francisco Branch of the NAACP, touted the virtues of the oldest civil rights organization in America and its importance today.
In what amounted to a sermon worthy of any Sunday service, Brown said the Black Press must tell the story of African Americans.
"Let no one else tell it for us," he said, before providing a vivid picture of his foray into the Civil Rights Movement, as a teenager.
"One of the problems with the Black community, today, is that we don't have enough rituals of remembrance," Brown said.
Referring to the current administration and its policies, Brown said, "'The man' is doing today what he's always done."
Brown continued: "They say to make sure, 'If you're Black you get back. If you're brown, you stick around and if you're White, you're always right. They're not any better than we are. We came from Mother Africa."
Baskerville, a 2014 Harvard University Advanced Leadership Fellow, said the state of HBCUs remains strong.
"From my vantage point, HBCUs in 2018 are strong and getting stronger. In fact, it's harvest time for HBCUs," Baskerville said.
Baskerville also said that the vitriol coming out of the White House and the policies that jeopardize voting and other rights are reminiscent of the time when HBCUs were born.
"The actions and words and legislation taking place will turn back the clock, if we let it happen," Baskerville warned. "But, I say it's harvest time for HBCUs, because it's the 50th anniversary of the sanitation workers march [in Memphis] and the death of Dr. Martin Luther King Jr. and we are still going strong. We are 106 strong, but if you read fake news, HBCUs are closing."
Baskerville continued: "We have lost just one [Black college] and we are still struggling to get it back. I say its harvest time, because while HBCUs are just three percent of schools, we graduate 20 percent of African Americans across the country; Sixty-percent of African American public health professionals; 50 percent of African American public school teachers; and more than 40 percent of Black STEM professionals."
Cartwright said NAREB, the oldest group representing Black realtors (which he called "realtists"), is working to help Black homebuyers.