State of Black America is strong, experts say
Leaders in Education, Civil Rights, Religion and Housing Discuss the State of Black America at Annual NNPA Conference
Stacy M. Brown (NNPA Newswire Contributor) | 1/29/2018, 6:05 p.m.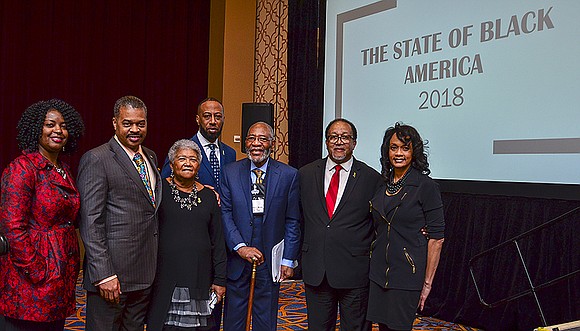 "Most African Americans were stripped of their wealth with the housing decline when trillions of dollars were lost," he said.
According to a recent report, Cartwright said that the median net worth for Black families is less than $2,000 while the median net worth of White families is roughly $100,000.
Further, he said, while the median wealth of White women was about $41,000, the median wealth for Black women was only $5.
"Real estate is the cornerstone of wealth," Cartwright said. "That's the equity we need to pass on to the next generation."
When it comes to the Black Church, Lee cautioned African Americans not to be disillusioned about religion by megachurches and television evangelists.
Lee said the A.M.E. church is united and membership is beginning to climb; mobilization efforts like the get out to vote campaign in Alabama during the contentious Senate race between Democrat Doug Jones and Republican Roy Moore are also increasing.
Lee noted that Black Church isn't seeing the type of radical drop off in its membership that White churches are experiencing.
"Most of our churches are 200 or 300 member churches and the Black Church is doing major work in every community," said Lee. "We are mobilizing when you look at the last election, the Black Church learned a great lesson…we must get back to training our people and understanding the science of mobilization."