Journalist Trymaine Lee named MSNBC correspondent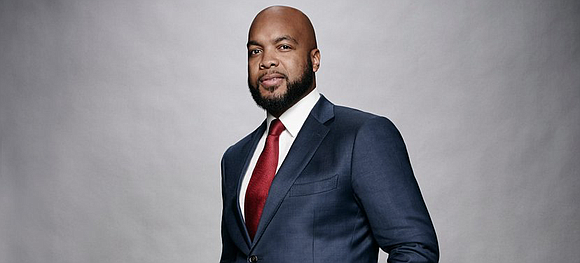 MSNBC names Pulitzer Prize-winning journalist Trymaine Lee a correspondent for the news network. He makes the move after serving as a national reporter contributing online and on air for NBC News and MSNBC digital.
Lee will remain in New York City covering the role of race, violence, politics and law enforcement in America and bring his expertise in social justice issues to MSNBC's primetime and weekend programming. He will appear regularly across "All In with Chris Hayes," "The Last Word with Lawrence O'Donnell" and "AM Joy."
"I'm really excited about the opportunity to continue to tell the kinds of stories that really matter. Especially now," Lee told website Blavity. "I think it's more important than ever that we cut through the noise and tell real stories about real people. This new role will help me do just that."
Joining NBC News and MSNBC in 2012, Lee's coverage of the protests in Ferguson, MO earned him two National Association of Black Journalists (NABJ) Salute to Excellence Awards for Digital Media in 2015. Lee's original multimedia series "Geography of Poverty," which chronicled poverty-stricken communities nationwide including Flint, MI during the water crisis, was honored with a NABJ Salute to Excellence Award in 2016. He also covered high-profile stories across NBC News and MSNBC shows, including a series of reports in 2017 for "All In with Chris Hayes" on the epidemic of violence in Chicago.
Lee has also been noted for his coverage on the recent killings of Black men at the hands of police including Michael Brown Jr., Eric Garner, Walter Scott and Freddie Gray.
Before going to NBC Lee was a reporter at The Huffington Post and The New York Times, where his coverage of Gov. Eliot Spitzer's sex scandal helped earn the newspaper a Pulitzer Prize for Breaking News. He also earned a Pulitzer Prize as part of a team that covered Hurricane Katrina at The Times-Picayune.
Along with his Pulitzer Prizes, Lee was a 2016 and 2017 fellow with the New America Foundation and a 2006 recipient of NABJ's Emerging Journalist of the Year Award. Additionally, he was named to Ebony magazine's "Power 100" list in 2015. He is currently writing a book on gun violence in America, slated to be released in 2019.