Rev. Jesse Jackson pushes for federal anti-lynching law
Jeffrey L. Boney (NNPA Newswire Political Analyst) | 7/3/2018, 10:21 a.m.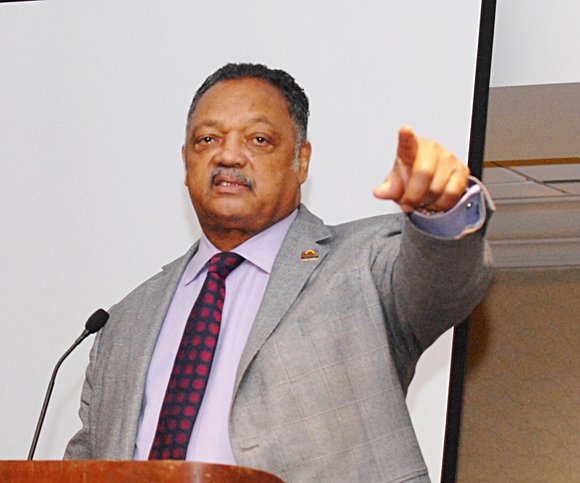 If history has proven one thing, it's that when Reverend Jesse L. Jackson speaks, the nation tends to always listen. Rev. Jackson continues to use his voice to speak on an atrocity that has plagued Black people for decades—the horrific act of lynching.
While in town to receive the 2018 Lifetime Legacy Award from the National Newspaper Publishers Association (NNPA) at their NNPA Awards National Legacy Awards Black Tie Gala and Annual Convention in Norfolk, Virginia, Rev. Jackson spoke to NNPA publishers about the need to adopt legislation to address the despicable act of lynching.
"Lynching should be a federal crime," Rev. Jackson told the group of publishers at the NNPA Annual Convention. "Blacks are still being lynched today. Not just with a rope. Unarmed Blacks are being killed on a regular basis and it must be addressed. More people were killed after slavery than before slavery. Prior to the ending of slavery we were considered assets, but after slavery we were considered a threat, because we could vote. We need this legislation now."
Rev. Jackson believes that addressing the issue of lynching in this country is long overdue, and he has been aggressively pushing for members of Congress to step up to the plate and officially make lynching a federal crime. Rev. Jackson told NNPA publishers that he has spoken with the Congressional Black Caucus (CBC), Minority Leader Nancy Pelosi (D-Calif.) and many other top congressional lawmakers about this issue.
As a result of Rev. Jackson's targeted efforts, Rep. Bobby Rush (D-Ill.) recently introduced a bill to amend section 249 of title 18 in the United States Code, specifying lynching as a hate crime act. After Rep. Rush introduced his bill, the three African American lawmakers in the U.S. Senate followed suit by drafting bipartisan legislation to classify lynching as a hate crime that would carry a more serious sentence for the act.
The three African American senators—Cory Booker (D-N.J.), Kamala Harris (D-Calif.) and Tim Scott (R-S.C.)—drafted the "Justice for Victims of Lynching Act of 2018," which defines the act of lynching as "the willful act of murder by a collection of people assembled with the intention of committing an act of violence upon any person."
"It's a travesty that despite repeated attempts to do so, Congress still hasn't put anti-lynching legislation on the books," Sen. Booker said in a statement regarding the legislation. "This bill will right historical wrongs by acknowledging our country's stained past and codifying into law our commitment to abolishing this shameful practice."
Although lynching has been a terrible and traumatic act that has ruined the lives of many Black families for decades, the U.S. has never passed any form of federal anti-lynching legislation since its inception. The Justice for Victims of Lynching Act of 2018 highlights the fact that several attempts to pass federal anti-lynching legislation failed to gain support from the U.S. Senate even though seven sitting U.S. Presidents pushed to have the legislation passed.
"Lynching is a dark, despicable part of our history, and we must acknowledge that, lest we repeat it," Sen. Harris said in her statement supporting the need for the bill. "From 1882 to 1968 there have been 200 attempts that have failed to get Congress to pass federal anti-lynching legislation; it's time for that to change."