Community Works NYC to install permanent art and history exhibitions at Harlem Hospital Center
Abdirahman Ali | 7/5/2018, 12:02 p.m.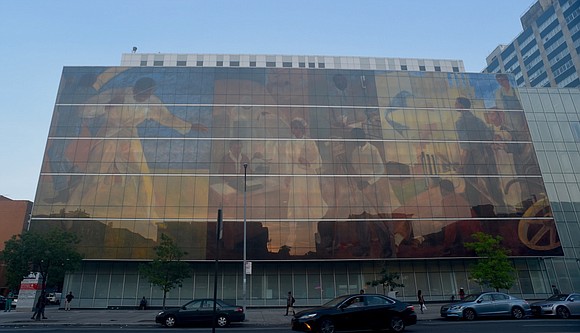 The "Harlem is…Spirit of Community" exhibit has extended its summer hours to July 28, 2018. The exhibit is open Tuesdays and Thursdays through Saturdays each week from noon to 4 p.m.
The exhibit is a part of the multipart exhibition series "Harlem is…." The latest installment in this series, "Spirit of Community," is presented by Community Works NYC, New Heritage Theatre Group and the Harlem Hospital Center. The exhibit opened March 15 at the Mural Pavilion of the Harlem Hospital, located at 506 Malcolm X Blvd.
The centerpiece of the exhibit is a 25-foot, permanently installed timeline of Harlem's history, which includes archival images, photographs and text that focuses on 30 historical and current figures whose lives and work helped build and celebrate Harlem's legacy.
The exhibit includes a screening of the film "Celebrating What Harlem Is," by David Lackey, along with music by trombonist and composer Greg Harris and words and poetry by iconic Harlemites and Harlem youth.
The exhibit also includes works from seven Harlem-based artists, including Tau Battice, Elan Cadiz, Bryan Collier, David Vades Joseph, Dingda McCannon, Ruth Morgan and Shawn Walker.
The "Harlem is…" exhibition series, first launched by the nonprofit arts and education organization Community Works NYC in 2000, celebrates the people, places and institutions that helped shape Harlem. Each exhibition is meant to focus on a different aspect of Harlem's culture and history.
Since its launch, "Harlem is…" has garnered the Encore Award from the Arts and Business Council, the Black Theater Award from the Greater Harlem Chamber of Commerce and a special salute from former Mayor Michael Bloomberg, and exhibitions have toured 30 museums, community centers, office buildings and public schools citywide.
"Harlem is…Spirit of Community" resides in the Harlem Hospital's Mural Pavilion, home of the historic Harlem Hospital Center Murals, a series of murals commissioned for the hospital by the Works Progress Administration's Federal Arts Project. These murals marked the first WPA commissions awarded to African-American artists.
"It was developed by the Harlem community," said Barbara Horowitz, founder and president of Community Works NYC, speaking with the Amsterdam News about the organization's exhibition series. "It was created by Harlem to tell its story; we helped to facilitate it." The exhibitions include work by Harlem youth, who conduct research and interviews within the local community as a part of Community Works NYC's local programs.
"We always need to know where we came from and the importance of our communities," said Horowitz. "Now more than ever, we all must remember who we all are."
Horowitz remarked on the significance of having this communal storytelling through art take place at the Harlem Hospital Center, a "community space about healing."
"The art begins in 1936 and we continue to tell the story," she said.
Community Works NYC placed an emphasis on intergenerational storytelling in putting together the exhibition and curating the artists featured. "We have a young photographer named David Vades Joseph, who's been documenting his local community," said Horowitz. "And then we have Shawn Walker, who is 80 and has been documenting since 1960."