Jersey Kidz sojourn to the New Museum of African-American History and Culture
Little Red | 7/5/2018, 10:20 a.m.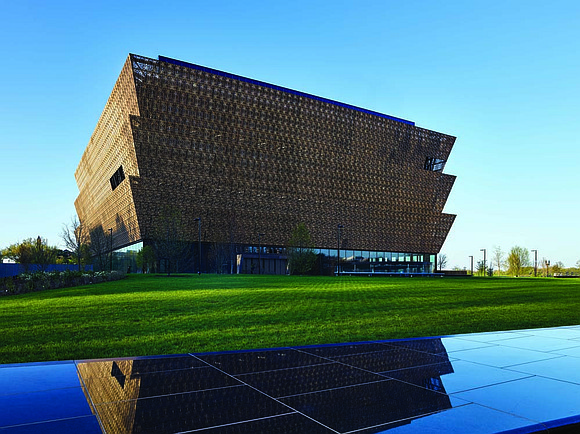 They watched the highly celebrated Black Panther movie on the way down.
The Popcorn Kidz, the children's initiative of the Irvington chapter of the People's Organization for Progress, under the leadership of Sandra Hayward, sojourned down to new Smithsonian National Museum of African-American History and Culture Saturday to cap an incredible academic year.
The groundbreaking museum is in such demand that it is now booked several years in advance. Kudos goes to the Thomas Colson Woody Foundation for being able to secure the reservation and the resources for the trip's transportation.
True to its reputation, the deceptively massive museum proved absolutely too much to completely cover in one visit.
Councilwoman Donna K. Williams and her large, endearing and engaging presence could only give a small slice of the mammoth center on her live Facebook feeds, capturing a collection on the impact of hip-hop, a moving collection called "The Foundation of Faith" and one on the African-American Military contribution.
Williams is the driving force behind the foundation.
She also secured donations from area firefighters and other donors who chose to be anonymous.
Mother and daughter, Stephney and Shania Soreal, were both taken by the journey "down" into the facility, starting some 500 years ago with a slave ship and how each level up represented a century of history to embrace.
Stephney Soreal pointedly observed, "As painful as it was, the ascent to the upper floors and modern-day times relieved the sickness I felt in the pit of my stomach while visiting the slave ship."
Teenage Shania Soreal was also taken by the hurtful "Purpose of Stereotypes Exhibit" that chronicled the racist institutionalization of the African-American image in the 19th and early 20th century. It helped to learn of all of the stereotypes, but it felt better "knowing that they were not true."
They were all taken by the incredible Emmitt Till Memorial, which featured Till's actual casket.
Their history teacher, Zayid Muhammad, tried to prepare the delegation for the gravity of that exhibit by explaining to everybody how the lynching of the 14-year-old Till in 1955 was not only the reason that the epic March on Washington was held on Aug. 28, but also a brave, pivotal moment for the Black press when a then young Jet magazine dared to run photos of the young man's horribly mangled corpse in support of his mother's insistence on "letting everybody see" what they did to her son. That was the bleeding spark that made that generation begin to truly stand up to segregation.
They were not prepared for the stalwart former new Panther leader breaking down on encountering the casket: "They will violently sacrifice our children like it's nothing. Imagine losing your own child like this, and the underground Klan network still makes young Black people disappear."
Tamia McCormick, a young wellness advocate within P.O.P., summed up her experience by saying that the "trip was well coordinated and culturally nourishing."
She continued, "I think everyone should take a trip to the African-American Museum and spend entire day there discovering our strength, ingenuity, perseverance and self-determination. It serves as a reminder for us to not simply survive, but to thrive no matter what we are going through."
Hayward, moved by the students' embrace of their history, added, "Learning has become fun again."