Liberty earn OT win, but consistency remains elusive
Lois Elman | 7/5/2018, 11:35 a.m.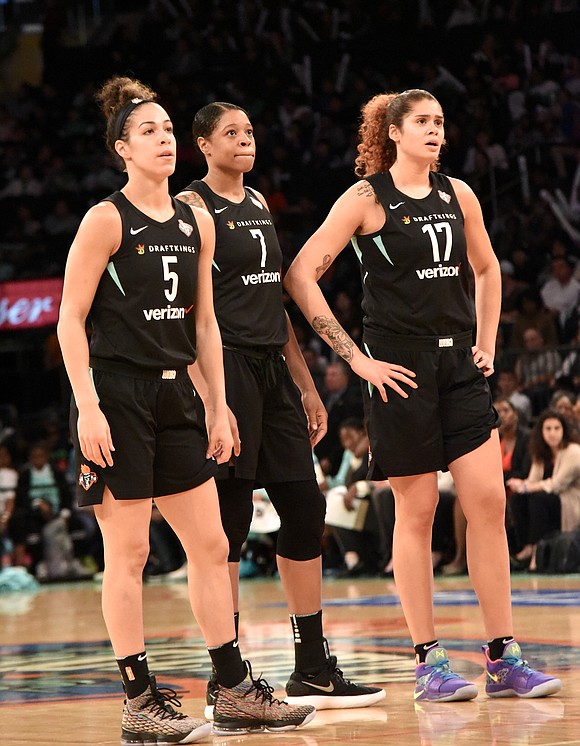 It took five players in double figures, a 28-point performance from Tina Charles, a double-double from Kia Vaughn and overtime, but the New York Liberty finally broke its five-game losing streak with a 97-94 road win over the Chicago Sky Sunday evening. It was a jam-packed few days that included back-to-back games and two away games, but the Liberty was finally able to show glimpses of its potential.
"We got stops when we needed to and rebounds. I'm just really proud and happy for our team to get this win, because we've been battling the last few games and right at the end. To get this one feels good," said Liberty coach Katie Smith.
The Liberty had lost to the Sky 103-99 at the Westchester County Center just two days prior in a tight game. That has been the scenario for the Liberty much of the season—close games lost on a late game surge or buzzer-beater by the opposing team. That is why this win felt so meaningful.
"It means everything," said Charles after the win. "This is really a great confidence booster for us. We have always been so close when it came to winning other games that we've lost, so this is a big confidence booster for us. This is basically like a playoff series. And I think we came in with that mindset wanting to get this win."
The win brought the Liberty to 5-11 for the season, which puts the team at second to last in WNBA standings. There needs to be more cohesion and intensity to pull up and make a playoff run.
"We are trying to get momentum and get a few games under our belt," said Vaughn, who had 12 points and 11 rebounds in the win. "It's been tough—real, real tough. It just means a lot because we keep fighting; we keep fighting a lot."
She added, "Just trying to stay focused on what we've done that was good before we got into overtime. Just trying to stay aggressive because during that time you're like, 'C'mon let it be over.' But we have to continue to fight."
Whether this win provides the Liberty forward momentum remains to be seen. The next home game is Sunday versus the Dallas Wings.