Moshood Creations celebrating culture, style and community spirit
Olayemi Odesanya and Nayaba Arinde | 7/5/2018, 10:10 a.m.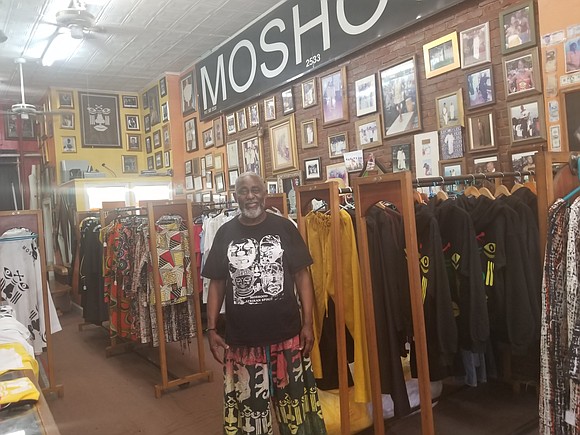 Moshood Creations and the fashion boutique's founder Moshood Afariogun have been a fixture at 698 Fulton St., Fort Greene, Brooklyn, for more than two decades. This man, who is a bit of a local celebrity himself in the neighborhood, is known as a beloved international fashion designer, a philanthropist (he has gifted clothes to everyone from local youth groups to political prisoner fundraisers), businessman and community activist.
"I have been here for 24 years, and I love my customers. They are like family to me," Moshood said. "Wear Moshood, Wear Yourself' is the motto of Moshood Creations. You can always spot "a Moshood," as they stroll proudly down the block, their ensemble boldly announcing itself before they do.
"I have been coming here many, many years for the quality, the fabrics and the cuts, the drape of the skirts," said customer Safiya Bandele, Medgar Evers educator and activist, as she perused the racks of brightly colored garments. "I want something in white for the International African Arts Festival," she told Moshood, as he stood behind the counter chatting and smiling at all who passed through.
Any given day of the week, but most especially on a Saturday, the place is buzzing. A graduation, a prom, a gala, a red carpet appearance, a TV appearance, a news conference or a first date or wedding, a Moshood can work, and make anybody a standout. Ask regulars such as Stevie Wonder, Erykah Badu, Laurence Fishburne, or any number of local electeds, musicians, artists and activists. The tribal mask motif says it all—pride, culture, casual distinction and panache.
The store itself is a piece of art. Of course at first there is the vast array of clothes for all shapes and sizes, modern takes of traditional African styles, including wraps, billowy tops, wide-legged pants and dresses. There is art on the walls, photos from bygone years to just-about-tomorrow, as well as framed color pictures of stars, local celebrities, designers and fashion show models. The distinct rhythms and sentiments of fellow Nigerian Fela Anikulapo Kuti can be heard serenading customers.
You can of course catch the live models in the windows—blink and you will miss them move.
"I have been coming since the beginning; we are like family," Bandele added. "I went to Senegal recently, and when the sisters stepped out in their Moshood…I stepped out in my Moshood, in Dakar."
Now Moshood is asking for financial assistance. Black-owned businesses such as Moshood are being forced out of the neighborhood because of the high rent increases because of gentrification.
Moshood hopes with the help of the community he can continue to have a thriving business. A recent GoFundMe and crowdfunding campaign has been put up online. Moshood is withstanding the rigors of a swiftly gentrified neighborhood with tripled rents. He commented, "We are good for now, but we do want the community to come out and support us by buying and donating."
Moshood started his GoFundMe campaign back in May and has already raised more than $5,000 of the $25,000 that he hopes to raise. He said that the donations will go to the rising costs of rent, insurance, supplies and inventory.