'Power' to the people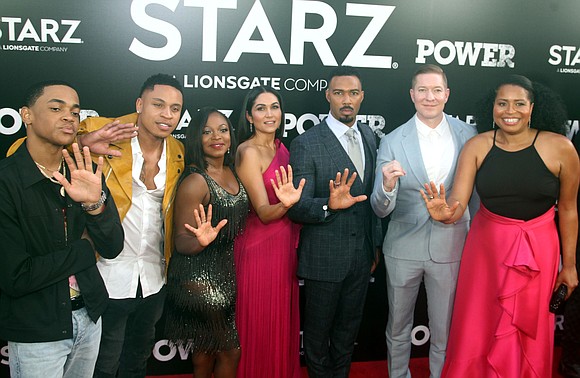 Whether real or perceived, folks are taking notice of the "Beige Rage." It's real! As a result, strange bedfellows are being forged to stem the tide. Examples? Having won three of the last four NBA Championships with the "Splash Brothers" tandem of Klay Thompson and Steph Curry at the nucleus, the Golden State Warriors have the Los Angeles Lakers countering with a pairing of arch nemesis Lance Stephenson and LeBron James. That is like the pairing of Kanan (Curtis "50 Cent" Jackson), Tommy (Joseph Sikora) and Ghost (Omari Hardwick), working in tandem to take down Dre (Rotimi.)  
How'd that happen? Will it work? Although we must wait until late October to see how the former work together, Sunday night we got the first glimpse of the latter as Season 5 of the Starz Network flagship show "Power" hit the airwaves. To get a jump-start by a few days, viewers filed into Radio City Music Hall until the venue was at capacity, for the star-studded premiere of Season 5. Week two finds core cast members further on the promotional grind as they mix and mingle with patrons of at one of the biggest events of the year—the Essence Music Festival.
Speaking of Essence, it's looking like New York will have heavy representation when it comes to talent. Some of those set to perform in the Mercedes-Benz Superdome are Mary J Blige, Teddy Riley, Kelly Price, SWV, Doug E. Fresh, Kool Moe Dee, MC Lyte, Ashanti and Whodini. Circled on the must peep show list is a brother who called Queens home. Although a relative new comer, Ro James is on the fast track to be one of those dudes in the music realm. From the gate, his first commercial single, "Permission," was one of those rare joints that from looking at the chart numbers could be dismissed as marginal (#37 R&B/Hip-Hop Chart.), but he had a song that was felt by different generations of soul/R&B fans. That's big! It's the rare ability to summon the spirit of the musical ancestors while having the vision and insight into what will be happening in the future.
James said, "I grew up listening to Stevie, Marvin Gaye, Otis Redding, Prince, Michael Jackson, D'Angelo and Donnie Hathaway. Those kind of careers weren't just talent. It took tunnel vision. I don't see anyone out now like that, and I want to make sure that on my journey, I'm taking the steps toward icon."
The debut full-length LP "Eldorado," garnered a Grammy nomination, so the footprints are laid. With that, however, he faces the challenge of staying on that path or being true to his creativity. "I want to be able to grow and show that I'm not a one-trick pony," he said. "I want to free to express myself."
While album No. 2 is anticipated by his flock, he recently returned to his EP roots with the release of his 4-track project, "Smoke EP." The EP is now available to purchase and stream at all digital service providers via ByStorm Entertainment/RCA Records. "Smoke EP" is the first of two EP installments that will be released in anticipation for James' sophomore album, due out later this year. The second installment, entitled "Mirrors EP," is due any day now.
The first release from the project was "Lost My Mind," featuring Notorious B.I.G., and was released March 9, the anniversary of the legendary Brooklyn rapper's death. Salaam Remi (Amy Winehouse, Nas, Miguel) handled production chores on that title, with additional production by Soundz (Bryson Tiller, Justin Bieber, Wale), Andre Harris (Rae Sremmurd, Jill Scott, Yo Gotti) and Tricky Stewart (Frank Ocean, Beyoncé, Usher).
On the release of the EP, James said, "'Smoke' is just the intro into the fire. 'Mirrors' is about reflection and self. I've been away for a bit, recalibrating, growing and learning. I'm ready to share again. Decided to drop an EP and warm it up a little while I finish off the album, 'Smoke & Mirrors.'"
If Essence isn't in your plans, fret not. Saturday, July 7, Lyfe Jennings, previously scheduled for B.B. Kings, has been relocated to Sony Hall (235 W. 46th St.).
Over and out y'all. Holla next week. Til then, enjoy the nightlife.