Summer's sporty styles ready to go
RENEE MINUS WHITE | 7/5/2018, 11:54 a.m.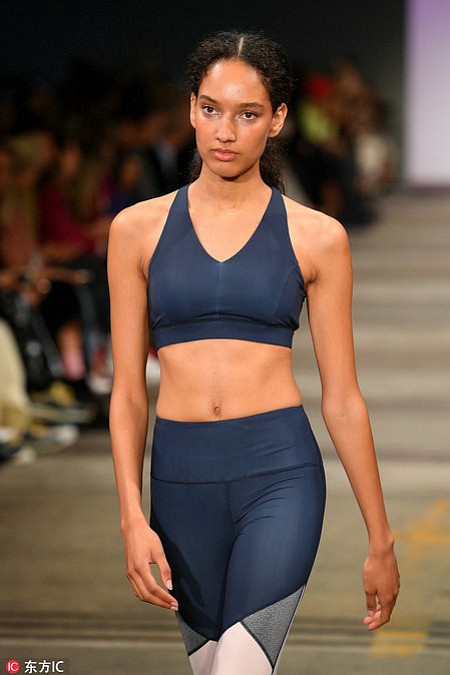 Drink lots of lemon and water. Don't forget your sunscreen. With the sun so hot on the street, beaches and at sea, hair conditioners and moisturizers are a must. Leave-in conditioners are the best for your hair at pools and beaches. Rinse hair after you come out of the water. Moisturizing skin is important. For makeup: Less is more. Lipsticks, blush, eye works and that's it! Don't overdo it. You are naturally beautiful. Glow and go with the season!
In fashion, the brand Colovos is designed by a husband and wife team, Michael and Nicole Colovos. For spring/summer '18, they offered a curated selection of exquisitely constructed clothing for the modern woman. Made in Italy and the USA, their collection incorporates a seamless blend of clean, architectural lines, beautiful fabrics and thoughtfully considered details. Colovos blends traditional tailoring and craftsmanship with modern minimal shapes.
Born in Spain, Michael grew up in Seattle. He soon was involved in the influential music/skateboard scene that was happening at the time. Interested in design, he moved to New York and later he moved to Italy to study fashion. He met Nicole, a New Zealand-born stylist and editor at Harper's Bazaar magazine, in New York in 2002. Together, they launched Habitual, a high-end denim collection. They launched their namesake brand Colovos in 2016. Their separates collection was chic.
Back in Australia, Porte-a-Vie is a global curation of exquisite lingerie and intimate accessories. These pretty pieces are perfect for a luxury look underneath it all. Porte-a-Vie features a selection of beautiful lingerie, loungewear and fragrance. The PAV woman is confident, curious and expects the best in life, from the most delicate European lace bra and the finest French stockings to silk pajamas, slips and robes. This lady is in charge of her femininity and her sensuality. She wants to experiment and explore.
With the rise in sports luxe and athletic leisure trends, B.O.D. by Finch now sees activewear as part of our everyday wardrobe. Their designs include layering pieces and traditional fabrications, such as fully fashioned knitwear. For morning coffee and school pick-ups, these pieces can be worn comfortably. Well-suited for all physical activities, you can wear B.O.D. separates for cardio workouts, yoga, meditation and stretching. This brand's clothes cover the full spectrum of athletic lifestyles.
Of RO, another Australian brand, was created by fashion and textile designer Rachael O'Brian in 2017. She is driven by the desire to elevate the processes and practices that involve manufacturing fashion and textiles. "In creating my debut collection, Scene, I drew inspiration from satellite images. Their dynamic colors and patterns display a fascinating perspective on human impact and activity," said O'Brian.
Scene explores a shifting consumer perspective and a role of sensory interaction in a sustainable future. It's an exploration of weave and deconstruction of tailoring through draping that allows for a breakdown of traditional garment conventions. The process encourages a curious approach to dress-making that enhances garment interaction.