Lacrosse program provides outlet for Harlem kids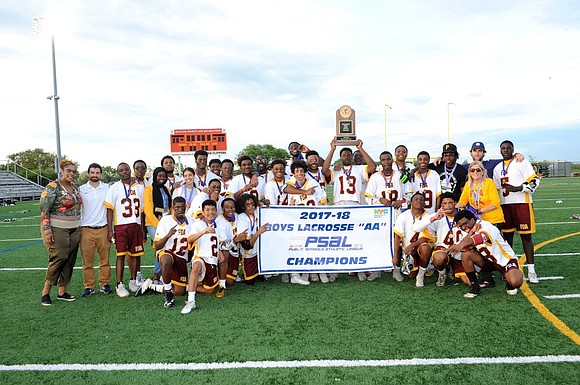 Many youth sports programs purport to provide an academic foundation as well as an athletic one. One organization in Harlem outwardly practices what it preaches.
Harlem Lacrosse is a program that works with public schools in the historically Black neighborhood and runs two lacrosse teams that compete in the boys and girls divisions of the Public School Athletic League (PSAL). The program also provides a guidance counselor and a support system along with a full-time high school coach at Frederick Douglass Academy. According to HLL officials, the coach, however, focuses more on academics and counseling and spends 20 percent of the time on coaching lacrosse.
But that hasn't stopped the teams from becoming elite. The boys team has won two straight championships against more traditional programs based in the suburbs and places like Staten Island. But how did all of this get started?
"I was first introduced to Harlem Lacrosse by one of my former teammates at the University of Virginia," HLL Senior Program Director Owen Van Arsdale told the AmNews. "Out of college, he took a job as the first hire of what was gonna be our newest program site outside of Frederick Douglass Academy. The following spring, he took his kids down to UVA for a weekend and brought the kids to our game. We interacted with the kids and heard some of their stories."
Arsdale's former teammate is HLL Program Director Wyatt Meltzer who put him on to something that could keep him around lacrosse and help make a difference as well.
"I understood that this is an opportunity that this group of students was getting at a big college program because of what they were doing with a lacrosse stick in their hand," continued Arsdale. He then said that he got on the phone with his friend and inquired about coaching lacrosse and working with the kids.
"I've grown so much from the experience," said Arsdale.
Harlem Lacrosse was formed in 2011 once the lacrosse team, introduced to FDA 1 via co-founder Simon Cataldo, grew to 35 students. The organization was formed to create a "holistic" youth services organization. According to HLL statistics, 92 percent of their students identify as African-American, Hispanic or multi-racial, 53 percent are male, 45 percent speak a language other than English at home and 96 percent qualify for free or reduced lunch.
But a program like HLL needs support from the outside. Several years ago, L+M Development Partners (an affordable housing developer with a number of projects in Harlem) CEO and Co-Founder Ron Moelis met the principal of P.S. 149 Sojourner Truth School and discussed the lacrosse program (it was only available for boys at the time). The principal expressed a desire to start a lacrosse program for girls too and the talks eventually put Ron in touch with Meltzer.
"L+M has, among other community investment initiatives, a robust grant-making program and a program that focuses in other areas like workforce development and youth development.," said L+M Director of Community Investment Samantha Franklin to the AmNews. "We understood that Harlem Lacrosse had a robust education and college component and we thought it would be a nice strategy. We're working with Harlem Lacrosse leaders to develop a scope of work for the upcoming summer and subsequent 2018-19 school year and help them with programmatic expansion.