Black publishers come together in Norfolk to challenge fake news
Lauren Poteat (NNPA Newswire Washington Correspondent) | 7/10/2018, 10:06 a.m.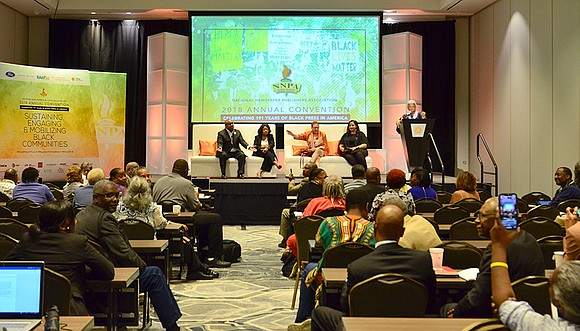 As Donald Trump's persistent "fake news" rhetoric continues to fester in the media, Black publishers across the nation, recently took charge of the conversation, giving way to a special forum entitled "Black Press vs. Fake News."
The forum took place during the National Newspaper Publishers Association's (NNPA) annual convention. Dorothy Leavell, the chairman of NNPA and publisher of the Chicago Crusader, the Gary Crusader and the Chicago Reader, moderated the dialogue about misinformation in mainstream media.
"What do we do in this age of fake news?" Leavell said. "Our struggles and our truths have been at the forefront of battling fake news throughout history."
Leavell continued: "In 1827, we battled the lie that we were nothing more than three-fifths of a human, spearheaded by the Freedom's Journal, the nation's first Black-owned and operated newspaper, which stepped in and showed us different. In 1895, activist Ida B. Wells, who established the 'Memphis Free Speech' refuted the fake news of her day—concerning the mythical rape of a White woman."
Leavell said that, throughout history, Black people have been victimized by the proliferation of fake news and misinformation, including some of our most profound Black leaders like Marcus Garvey, Dr. Martin Luther King Jr., leaders of the Black Panther Party and even today's Black Lives Matter.
"All these obstacles are nothing new to us," Leavell said. "So, while Donald Trump has been credited for popularizing the term 'fake news' we know this too is 'fake news.'"
Joining in on the dialogue, additional speakers included Sarah Glover, the president of the National Association of Black Journalists; Deborah Gray-Young, the managing partner of D. Gray-Young, Inc. Consulting; Dr. Julianne Malveaux, an economist and sociopolitical commentator; and A. Scott Bolden, the managing partner of the Washington, D.C., office of the global law firm Reed Smith. The panelists challenged Black publishers and their teams to not only report real stories, but to also report them right.
"I'm not so much concerned about what is being said, as I am with what isn't," Malveaux said. "We [Black people] can define what news is…For example, '45' is running around bragging about how low the Black unemployment rate is, but if you research the statistics and labor market correctly, you'll see that a large number of Black people, have actually left the labor market altogether."
Malveaux continued: "This is the real story that needs to be told and not 45's 'fake news.' This year alone over 150,000 Black women left the labor market, which represent the stories that nobody is telling."
According to a report by CNBC, nearly 70 percent of all American citizens are concerned about "fake news" being used as a weapon.
What's more, in a recent report by NBC, "fake news" or just overall lies, were shown to spread faster on social media than the actual truth.
Examining the critical role of Black media, which has long been the beacon of light in the Black community, alongside the new age of technology, Deborah Gray-Young, placed emphasis on millennials and their role in escaping the idea of "fake news."