Black publishers come together in Norfolk to challenge fake news
Lauren Poteat (NNPA Newswire Washington Correspondent) | 7/10/2018, 10:06 a.m.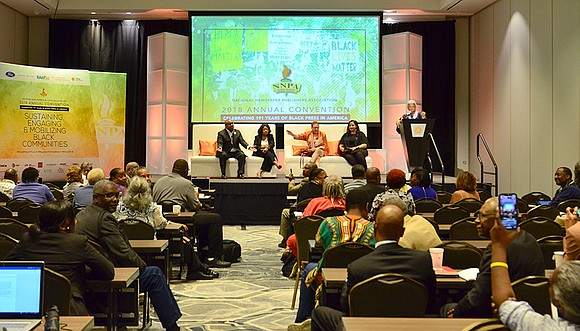 "Black media is being dismissed and not being regarded for its true worth," Gray-Young said. "It's time we take a page out of Donald Trump's book and reinvigorate our bases. Then we need to take a step back and reestablish trust, particularly among young people. We're in a time now, where millennials are asking, 'What's the source of true information?' That source is the Black Press and we need to do a better job explaining that."
Gray-Young continued: "And don't forget about your social media. This is what young people are plugged into. It's not just about what's happening in the present moment anymore. Every time we report something we are participating in the documentation of history, and what comes up in Google searches are items with the highest ratings, which is what the public comes to know to be the whole truth."
This is why the presence of the Black Press on social media is so pivotal, Gray-Young added.
"Increase your SEO's, tell your own stories and get plugged in," Gray-Young said.
Bolden said that in America, right now, "we don't struggle with the ideals of what is right and what is wrong, but what is the truth."
Closing out the discussion, Chairman Leavell called on mainstream media and the general public to denounce the idea of "fake news" and its message, while encouraging all Americans to support the Black Press.
"NNPA has served as a vanguard and a honest look into the lives and struggles of Black Americans for over forty years," Leavell said. "The Black Press has been around for over 191 years. To say that there is no real news or reporting, just isn't factual as history shows us different.
Leavell continued: "As members of the Black Press it is our job to be that torch of insight and lead other generations on."
Lauren Meredith Poteat is a Washington Correspondent for the NNPA Newswire and BlackPressUSA.com. You can follow Lauren on Twitter @laurenmeredithp.