Athletes' struggles with mental health issues mirror society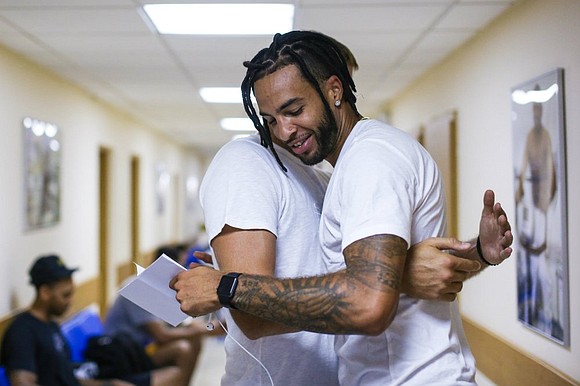 This past Friday, former UCLA basketball standout Tyler Honeycutt committed suicide at his residence in the Sherman Oaks section of Los Angeles after exchanging gunfire with officers from the Los Angeles Police Department. The 6-foot-8 Honeycutt was a former second-round pick (35th overall) of the Sacramento Kings in 2011 and had a brief NBA career.
According to LAPD, officers responded to a call regarding a man with a gun. They were met with gunfire from the 27-year-old Honeycutt, who then barricaded himself inside his home after police returned shots. Honeycutt, who had returned to Los Angeles in June after the conclusion of his season playing for a professional basketball team in Russia, had been displaying erratic behavior in the view of his mother and others close to him. It was Honeycutt's mother who called the police, fearing he was going to harm himself. Sadly, her fears were realized.
It is a tragic narrative common in American society, someone experiencing mental health issues who succumbs to the illness. The National Alliance on Mental Health maintains that 43.5 million adults in the United States (18.5 percent) experience mental illness in a given year. Furthermore, states NAMI, approximately 9.8 million experiences a serious mental illness in a given year that substantially interferes with or limits one or more major life activities. This report comes as mental health funding at state and federal levels is being slashed.
These numbers reflect mental health issues among high school, college and professional athletes. For decades, it was taboo among the professional ranks for league executives, owners and players to publicly acknowledge or address the topic. However, in recent years an increasing number of high profile athletes have bravely revealed and shared their battles with mental illness.
Brandon Marshall, a former wide receiver for the New York Jets and New York Giants, who is now with the Seattle Seahawks, was one of the first. In an article the 34-year-old Marshall penned for the website The Players' Tribune in May 2017 titled "The Stigma," Marshall encapsulated the feelings of countless people endeavoring to reconcile their challenges with mental health.
"It was 2011 and I was in a group therapy session at McLean Hospital in Belmont, Massachusetts," he wrote. "Another young lady told the group that she had attempted suicide the night before. I just sat there, in shock…there I was, this big, macho football player listening to these people talk about their feelings and not knowing how to react.
"I remember stopping my car at the edge of the parking lot, watching the other cars pass by on the street and wondering how many of the people in those cars—and how many more in this country—were facing similar issues and suffering in silence. Hundreds of thousands, I thought. Maybe millions.
"I decided that I wasn't going to remain silent. I had the revelation that it was my purpose to help bridge the gap in the mental health community, and football was my platform to accomplish that."
Indeed, through his foundation, Project 375, founded by him and wife Michi, Marshall has been a highly visible presence and prominent voice advocating for mental health awareness and services.
This past spring, the NBA and the NBA Players' Association launched a mental wellness program, which includes public service ads featuring NBA players such as the Toronto Raptors' DeMar DeRozan and the Cleveland Cavaliers' Kevin Love, who both have experienced mental health issues.
No one knows for sure if the outcome for Honeycutt would have been different with mental health treatment. What is known is that countless people, facing similar struggles as Honeycutt, also have similar endings.