'Blindspotting'—hip-hop-flavored comedy with truth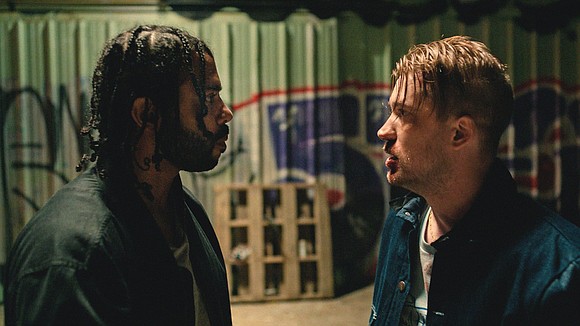 Daveed Diggs and Rafael Casal's "Blindspotting," directed by Carlos Lopez Estrada, blends comedy with drama, adding a hip-hop flavor. Diggs and Casal both starred in a story that's set in a rapidly gentrifying Oakland. It's bold and boisterous. It's intense and remarkably charming and under Carlos Lopez Estrada's it's worth watching—twice.
The script was co-written by Casal and Diggs, who won a Tony Award for playing Thomas Jefferson and the Marquis de Lafayette in "Hamilton" on Broadway. The young men they createdwere raised by the streets and work at a moving company. Casal's Miles is white and utterly reckless while Diggs' Collin (Black) is laid-back and, with three days away from the lifting of his probation, paranoid that even the slightest infraction would send him back to prison.
The smartest thing Collin could do would be to stay away from Miles. You almost want to shout to the movie screen—"Collin, step away from the crazy white man, please." Danger Will Robinson, adding your "Molly, you in danger, girl"— Yes, the combination is that explosive.
On the colorful Oakland streets, it takes a New York minute for Miles to produce not one, but six guns all stored away inside a close quartered car. Keeping the drama rolling, Collin witnesses a cop pursue and shoot a young Black man—in the back—who is running down the street an act of such violence that it penetrates into his brain. He doesn't tell the authorities but it haunts him. His heart beating wildly in his chest and thoughts plaguing his mind he wonders if the murderous cop would somehow track him down, and then eliminate the sole witness to his murderous act.
Their day job absolutely provides a very useful point-of-view with the changes in the neighborhood. It's clear that the latest adjunct to the Bay Area tech boom is affecting the city so much that it has destroyed the middle class. Their collective frustration is expressed the most in the way violence flows out of Miles, a man who's rather hard to take after a while.
By stark contrast, Collin is determined to change his life for the better. When he does eventually encounter the murdering cop, he responds using hip-hop to express his rage, fear and paranoia. It's an interesting choice. Not completely effective but again—a bold choice.
The producers did an amazing job with assembling their production staff. There is real talent evident in this production, including director of photography Robby Baumgartner, Tom Hammock (production designer), Emily Batson (costume designer), Gabriel Fleming (editor), Jonathan McHugh (music supervisor) and Kimberly R. Hardin and Nina Henninger (casting directors).
All in all, "Blindspotting" benefits greatly from director Estrada's creative eye, and he's true to his instincts both realistic and fantastical. He's a director to keep an eye on. There is something special there and I want to go on record in 2018 saying it loud and clear: he's one to watch.