Broadway stars raise money to reunite separated families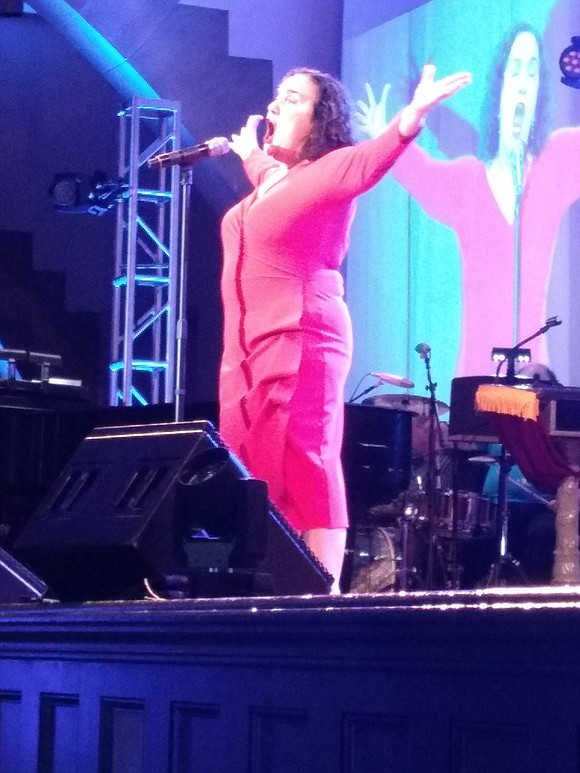 Everyone is aware of how President Donald Trump's "zero tolerance" stance has separated children from their parents in border states. One response recently took place at the Great Hall at Cooper Union in lower Manhattan, where Concert for America was held to raise money for four nonprofit organizations working along our southern border to protect the civil and human rights of immigrant families: Al Otro Lado, the Texas Civil Rights Project, the ACLU Foundation of Texas and the Florence Project.
Concert for America, a moving concert of songs, comedy and commentary, was created by hosts Sirius XM's Seth Rudetsky and James Wesley, who also organized the Broadway for Orlando/"What the World Needs Now Is Love" recording. Rudetsky and Wesley started Concert for America Jan. 20, 2017. It has toured the country with eclectic talent line-ups, with all concerts benefiting five national organizations fighting for civil, human and environmental rights.
Saturday's line-up consisted of Broadway all-stars—six time Tony-winner Audra McDonald; Tony winners Idina Menzel, Brian Stokes Mitchell and Andrea Martin; Tony Award winner and Lifetime Achievement Tony Award winner Chita Rivera; Drama Desk Winner Mandy Gonzalez ("Hamilton"); Tony Award nominee and Emmy Award winner Tina Fey ("Mean Girls"); and Tony Award nominees Jeremy Jordan, Olga Merediz ("In the Heights"), Keala Settle ("The Greatest Showman") and Patrick Wilson ("Insidious"). Broadway violinist Jorge Availa and singer/songwriter Shaina Taub also performed. Concert for America was broadcast via Facebook Live and at ConcertsforAmerica.com and was re-broadcast Sunday, July 8, at 9 p.m.
Rudetsky and Wesley spoke to the packed room in the Great Hall. "We started doing Concert for America to help nonprofits because of the event in November 2016 [Trump's election]," Rudetsky said. "We started to put together this concert 10 days ago after seeing the images from the border a few weeks ago. James and I have been increasingly horrified at what's going on with these families struggling at the border. Our friends suggested we put up another Concert For America to coincide with the upcoming day of national protests and, even though we had 10 days to plan it, we said, 'Yes!'"
Wesley added, "These amazing performers agreed to appear as soon as we texted them! And these wonderful organizations are working right at the front lines, helping both parents and children during this perilous time at our southern border."
Idina Menzel started the concert by singing "I See You." Some of the words in the song say it all: "Here's to the hopeless, the almost forgotten, to those lost along the way, I see you." Menzel's performance brought everyone to their feet as they clapped and shouted their approval and appreciation.
Chita Rivera gave a powerful performance of "America" from "West Side Story." Rivera's family is from Puerto Rico.
Mandy Gonzalez's father is a Mexican-American migrant worker and her mother is Jewish. They have been happily married for 46 years. Lin Manual Miranda wrote "Fearless" for Gonzalez to sing about her family's story and the story of many people with immigrant backgrounds in this country.