Bronx street renamed after slain NYPD Detective Miosotis Familia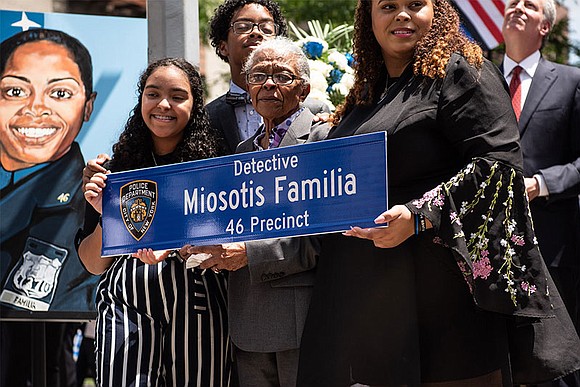 One year after the killing of NYPD Detective Miosotis Familia, family members, law enforcement and the community came together in the Bronx last week to make sure her name will always be remembered.
Thursday, July 5, Familia's life was celebrated at the 46th Precinct to rename Ryer Avenue and 181st Street after Familia. A candlelight vigil was held, as well as a prayers service.
Shortly after midnight July 5, 2017, Familia, 48, was fatally gunned down while she was sitting in a marked police truck with her partner. The suspect, Alexander Bonds, shot through the window of the vehicle hitting Familia in the head. Officers nearby confronted Bonds and fatally shot him.
In the aftermath of the shooting, a citywide mourning took place in Familia's honor. A 13-year veteran of the department, she worked at the 46th Precinct in the Fordham Heights section of the Bronx.
Familia left behind three children, a 20-year-old daughter, Genesis, and 12-year-old twins, Delilah and Peter, who have since received an abundance of national support. President Donald Trump invited members of Familia's family to the White House in May, where they spoke to a crowd about law enforcement officers who have died in the line of duty.
Last Christmas, the Tunnel to Towers Foundation gave Familia's three children a new home and a new car.
During her emotional remarks, with her siblings by her side, Genesis shared words of gratitude for the outpouring of support she and her family have received since Familia's death.
"My mom was bold," Genesis said. "And my mom loved us and she loved our family. But she also loved New Yorkers, she loved this city. God bless the NYPD."
Mayor Bill de Blasio was also on hand at the ceremony and said Familia was the definition of what an NYPD officer should be.
"There are so many powerful messages in the life of Miosotis Familia," he said. "A guardian angel for the people of this community and a guardian angel for her family as well, and she is really one of the finest examples you will ever see of the American dream, and the kind of striver that has always made New York City great."