Club Harlem, Grant Green Jr., Christian Sands
Ron Scott | 7/12/2018, 1:50 p.m.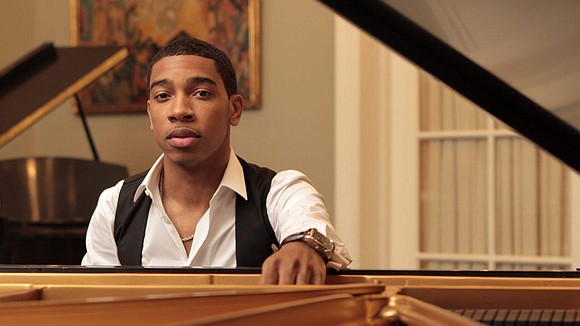 There was an abundance of Black-owned jazz clubs during the blood-drenched years of segregation, but now, because of that trickle down economy, Black clubs have dwindled drastically in this 21st century of openness, cloaked under smiling faces of eager racism.
Club Harlem in Atlantic City, N.J., was the most prestigious nightspot for major Black jazz performers, comedians and dancers because segregation barred them from performing in the major casinos in Las Vegas and Atlantic City across the tracks. The club was located at 32 Kentucky Avenue, in the racially segregated part of town known as "Kentucky Avenue and the Curb."
The historic nightlife of Club Harlem will bolt back to life like a big deal aerobatic lindy-hop dance July 12 through July 28 as City College Center for the Arts presents a special three-week return engagement of "On Kentucky Avenue: A Celebration of Atlantic City's Famed Club Harlem" at Aaron Davis Hall (135th Street and Convent Avenue).
The show, which premiered at Aaron Davis Hall in 2016, offers viewers a glimpse inside the celebrated nightclub founded in 1935 by Leroy "Pop" Williams. The production was created by Jeree Wade, written by the singer-actor Adam Wade and Ty Stephens and is directed by Lee Summers.
"On Kentucky Avenue" is set in 1969, during a dress rehearsal. A love triangle emerges between impresario Ivan King (Ty Stephens), his lead showgirl, Betty Jo Stanton (N'Kenge), and her best friend, the featured female vocalist, Pauline Pierce (Andricka Hall). (Ramona Dunlap performs the role of Pauline Pierce Friday, July 27).
The production also features Lee Summers as the comedian Slappy Black, who performed in the original club. The ensemble includes Donna Clark, Mindy Haywood, Cassandra Palacio, Carmen Carriker, Avery Royal, Jamal Shuriah, Phillip Deceus and Brian Davis. The revival introduces a new character, Homer Paisley, played by Count Stovall. Wade makes a special appearance as Damita Jo, a popular singer who often played the club during its summer months.
The Freddie Baxter Band will provide that memorable Club Harlem hard swing era, featuring Richard Cummings Jr. as Freddie Baxter (piano/conductor), Wilbur Bascomb as Odell Craft (bass) and David Silliman on drums, John F. Adams on synthesizer and Marvin Horne on guitar. 
From the early 1940s through the 1960s the club played host to such major performers as Ella Fitzgerald, Duke Ellington, Billy Eckstein, Sarah Vaughan, Sammy Davis Jr., Billy Daniels, Richard Pryor, Moms Mabley, Nancy Wilson, Dinah Washington and the Temptations. It catered to integrated audiences despite the norm.
Club Harlem, the most luxurious of any Black-owned venue or the white-owned Cotton Club, featured two lounges and a main showroom seating more than 900. A cocktail lounge had room for 400 guests plus the club's seven bars (the front bar alone accommodated nearly 100 people).
"We are thrilled to bring this new incarnation of 'On Kentucky Avenue' to CCCA," said Wade. "I've been happy to see that the show resonates across different generations, and we hope that theatergoers will attend with their family and friends."
Performances run July 12 through July 28, Thursdays and Fridays at 7 p.m., with 2 p.m. matinees on Saturdays. Tickets are $25 and can be purchased online at www.citycollegecenterforthearts.org or by calling 212-650-6900.