Enigmatic Yoenis Cespedes epitomizes the Mets' pains
JAIME C. HARRIS | 7/12/2018, 3:55 p.m.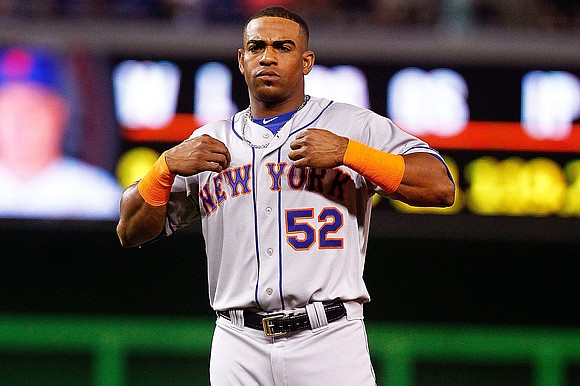 Three years ago, Yoenis Cespesdes, the enigmatic Mets' left fielder,  was at the beginning of a stretch in his career that would seemingly elevate him to superstar status. After being acquired by the franchise on July 31, 2015, in a trade with the Detroit Tigers for minor league pitchers Michael Fulmer and Luis Cessa, the native of Cuba hit 17 homers, 14 doubles and plated 44 runs batted in over 57 regular season games.
Those numbers were highlighted by a spectacular .345 bating average, four homers and 12 RBI from September 7th to the 13th in the thick of the National League East race, leading the Mets to a division title as they went on to win the NL pennant before losing to the Kansas City Royals 4-1 in the World Series.
In 2016 Cespedes played in 132 games, hitting 31 homers and knocking  in 86 runs. The Mets made the postseason once again, losing the NL wild-card game to the San Francisco Giants. A little over a month later, they signed him to a four-year, $110 million contract.
In the eyes of many disgruntled Mets fans, whose social media posts and talk radio rants attests, perhaps it was primarily about the money for Cespedes, his 2015 and 2016 performances fueled by a hunger for a lucrative long-term contract.
Since the deal, he appeared in only 81 games last season and a mere 37 this season due to injuries. The consequence is the Mets went 70-92 a season ago and have the least amount of wins in the National League this season at 36-53 after losing 7-3 to the Philadelphia Phillies on Tuesday night.
Cespedes has not played since May 13 with various injuries, including a hip flexor strain. He played two minor league games last month in an attempted comeback but was shut down again. Cespedes' absence—he is rehabbing at the team's spring training facility in Port St. Luice, Fla.—epitomizes the Mets' decades long labor to be a consistently relevant franchise on baseball's landscape.
He is just the latest Mets star—Carlos Beltran and Matt Harvey are glaring examples—of players who were either imprudently dealt with by management, derailed by their inflated egos and injuries, or a combination of the three.
Cespedes is extremely guarded and has rarely spoken with reporters since suffering his prohibitive injuries. He has exasperated die-hard Mets fans and caused the team's manager, Mickey Callaway, and front office personnel disappointment and ire.
It's only mid-July but it's already another disastrous season for both the Mets and their signature position player.