The Harlem Junior Tennis Program works out young kids during the summer
Vincent Davis | 7/12/2018, 2:52 p.m.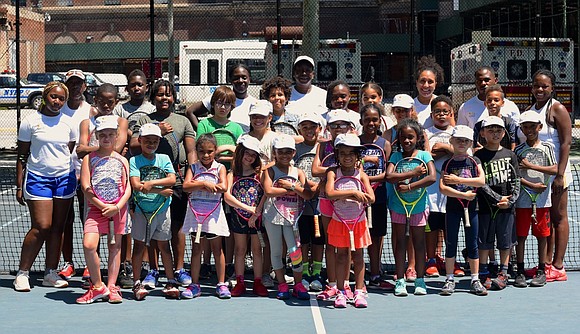 Young tennis players get the opportunity during the week, Monday through Friday in Harlem and in the Bronx, to not only receive specialized instruction in the sport but also receive instruction from dedicated coaches who enjoy teaching as much as they do playing.
"I've been teaching tennis for many years," said Simone Spigner, director of Grass Roots Tennis and assistant program manager of the Harlem Junior Tennis and Education Program. "It's just something that I enjoy. My whole family does. And my staff," who Spigner proudly brags about.
"There's Patricia Zepata, Sandra King, Joel De Los Santos, Michelle Thomas, Destiny Bouden, our youth counselor, and Lalla Diakite, who just graduated from college." 
The Harlem Junior Tennis and Education Program offers its participants opportunities and support to help them reach their highest potential through tennis. Character building and education are equally important.
Their court sites are on 135th Street behind Harlem Hospital, Howard Bennett Park between Fifth and Lennox avenues and the Fordham University campus in the Bronx. They get started at 9 a.m. and work out through the afternoon. The young beginners use the Harlem site. The advanced, competitive student athletes train in the Bronx. 
Although they seek out those who might have some talent, Spigner emphasized, "We just appreciate the role that we play in these kids' lives."