Howard tennis ace Nicole Hutchison working, training in NYC
Lois Elman | 7/12/2018, 2:41 p.m.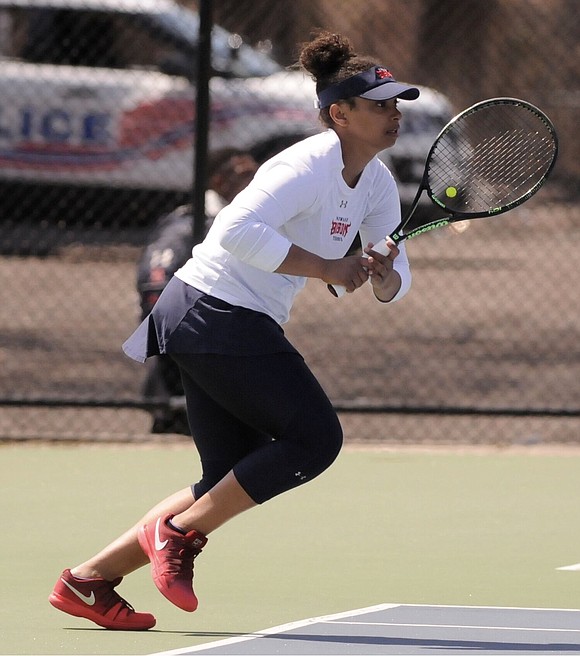 It's a grueling schedule for Howard University tennis player Nicole Hutchison, a broadcast journalism major spending her summer in New York doing an internship at NBC Sports in digital, editorial and marketing. Her work involves managing the website and planning ideas for Premier League watch parties for Sunday Night Football.
Each weekday, she rises around 4 a.m. and heads to the NBC Sports offices in Stamford, Conn. She trains at Chelsea Piers Connecticut before and after work. Occasionally, she works at the New York offices.
"Tennis is an independent sport, so it teaches you how to make independent decisions," said Hutchison. "Being a student-athlete teaches you how to manage your time. Athletes have a lot to handle. I've learned how to manage tennis, manage classwork and manage internships."
Hutchison's father played five seasons in the NFL and she entered college intent on covering the Washington Redskins. Right from freshman year, she alerted the tennis coach to her ambitions. Throughout college she has done her utmost to balance practice, training and competing with classes, studying and internships. Her career goal is to be a sideline reporter.
This summer most weekends she heads back to Washington, D.C., to train with her college coach, but she has spent a few weekends enjoying the sights of New York City. "My coach is really good about allowing us to make sure we do well in tennis, classwork and what we want to do going into our careers," said Hutchison, who will be a senior this fall and a team captain.
During this past spring season, she did an evening internship with the Washington Wizards after tennis matches. In 2017, she worked with the NBA Summer League in her hometown of Houston and had the opportunity to do on-air player interviews. Hutchison also has her own YouTube channel, Hutch in the Clutch Sports Talk, where she interviews NBA and NFL players and does updates on HBCU sports.
As she heads into her senior year, Hutchison feels strongly that she made the right choice to attend an HBCU. "If I would go to a PDI [predominantly white institution], I wouldn't feel as at home and as known," she said. "At an HBCU they really get to know each and every student…Also, everyone's doing something toward their careers."