Mary Shadd Cary, journalist, lawyer, educator and abolitionist
Herb Boyd | 7/12/2018, 1:46 p.m.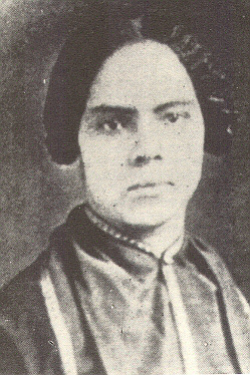 In his narrative of the raid on Harper's Ferry in 1859, Osborne Anderson, one of the five Black men (and the sole survivor) who rode with John Brown, provides an eyewitness account of the incident, and wrote this toward the end of the book: "From York [Pennsylvania], I wended my way to the Pennsylvania railroad," Anderson explained after his escape from the battle. "I took a train at night at a convenient station and went to Philadelphia, where great kindness was extended to me, and from there I came to Canada, without mishap or incident of importance."
What Anderson did not disclose because he was a fugitive in flight was that his destination was Chatham, Ontario, where there was a community of abolitionists, none more prominent and determined than Mary Ann Shadd Cary. After settling in, Anderson was soon working with Shadd Cary as a journalist on her newspaper.
Born in Wilmington, Del., Oct. 9, 1823, Shadd Cary was raised in an abolitionist environment and was the eldest child of Harriet Parnell and Abraham Doras Shadd, a productive and prosperous shoemaker. He was also a veteran of the Revolutionary War. It was through her activist family as well as the schooling and advocacy of Quakers that she obtained the virtues that would sustain her. Eventually, she and her family migrated to Canada to join a large contingent of African-Americans unwilling to endure slavery.
Flight from slavery was just one imperative. There was also the desire to participate in the increasingly large settlements populated by Black nationalists sympathetic to the anti-slavery movement. As she matured, Shadd Cary became a leader in the fight for economic and political freedom. She and her family were part of the emigrationists, who wanted their own farmland and demonstrated a quest for self-determination.
One of Shadd Cary's dreams was to found her own school where she could educate and train future generations with an understanding of slavery and the means to abolish it. In Chatham, she struggled to keep her school open. But soon the task was too daunting. She saw better opportunities in journalism and in 1853 took command of the Provincial Freeman, a newspaper based in Windsor, Ontario, just across the river from Detroit.
To keep the paper afloat, Shadd Cary traveled extensively to secure subscribers and spread the word against slavery. She was not only the publisher but also wrote a column and stories in each issue of the paper; always passionate about race and gender equality. After the Civil War and the death of her husband, Thomas Cary, she returned to the U.S. and began teaching in Detroit after earning a certificate. She soon moved to Washington, D.C., and for a while taught school while writing for several newspapers, including Frederick Douglass' The New National Era. Shadd Cary was in her 40s when she enrolled in the law school at Howard University, earning a law degree there in 1883.
Her expertise in law, education, journalism and activism made her a welcomed member of the suffragette movement, and she entered this struggle for women's rights with the same vigor and sense of urgency that she brought to the abolitionist movement. She was so fervent and outspoken on issues that she was often targeted and arrested during demonstrations. To avoid her pursuers, she often fled to Canada and moved with stealth across the border to Detroit for activities.