Seal sings standards, classics at NYC's Beacon Theatre
Nadine Matthews | 7/12/2018, 12:34 p.m.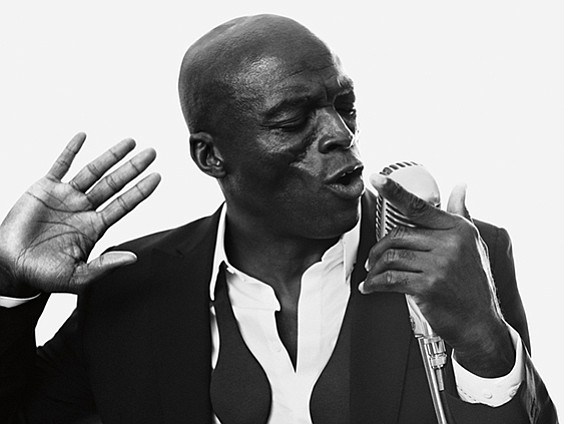 British pop singer Seal shared a surprising tidbit the other night at his amazing concert at New York City's Beacon Theatre. Grabbing his guitar in front of the packed audience before he launched into a string of older hits about midway through, he revealed that his favorite TV show is the country-western nighttime soap "Nashville," starring former "Heroes" actress, Hayden Panettiere. "It's my guilty pleasure," he said. It is about singers who go out on tour, so perhaps that is why he relates.
The concert was the crooner's latest stop on the tour for his album "Standards," released late last year. The album, as you would rightly guess by the name, is a set of jazz classics. Including music by Nina Simone, Ella Fitzgerald and Frank Sinatra, he is backed on the album by a number of musicians who actually performed with those legends. The album also features a full orchestra.
After his recording contract with Warner Brothers Records came to an end, he declared he wouldn't make a regular studio album again. Regarding this project however, he stated in a previous interview, "This is the album I have always wanted to make. I grew up listening to music from the Rat Pack era, so recording these timeless tunes was a lifelong dream. It was a true honor to collaborate with the same musicians who performed with Frank Sinatra and so many of my favorite artists, in the very same studios where the magic was first made—it was one of the greatest days of my recording career."
Serving something of a "gentleman biker" vibe in a black fitted evening coat, leather pants and fitted shirt with bright yellow shoes, he started off the evening with a beautiful rendition of "Luck Be a Lady." One of the highlights of the night was the moving trumpet solo during "My Funny Valentine." Seal's pop singer swagger, still on full display, made for a pleasing contrast with the "cool" jazz tunes he belted out. The 89-year-old, Neo-Grecian style Beacon Theatre with its gold Greek goddess accented backdrop further heightened the contrasting effect.
As concerts go, it was lively on the part of the audience and a somewhat intimate affair. Seal's children were in the audience, and he stopped the show briefly to point them out and tell them how much he loves them. He gave a shoutout to New Jersey native and music legend Frank Sinatra before launching into Sinatra's Grammy-winning hymn to outstanding romance, "It Was a Very Good Year." At one point in the evening he discussed his struggle with the fear of dying after his "involvement in a car crash" and mentioned how much he missed his friend David Bowie before launching into his version of one of Bowie's big hits, "Rebel, Rebel." Audience members intermittently yelled out how much they loved him. He returned the sentiment at one point, saying in his familiar raspy British accent, "I love you with the utmost love for you."
Seal took the overcoat off about halfway through, a sign of how hot things were about to get. He primed the audience with the refrain from "Kiss From a Rose," his 1994 hit that he wrote himself. After appearing on the soundtrack for the film "Batman Forever," the song eventually made it to No. 1 on the Billboard Hot 100 chart. This hit got the audience to its feet, where they stayed, dancing and singing along with Seal until the end of the night. He went through the full repertoire of hits with "Life of the Party" and "Solitary Brother" with their "house-y" leanings, begging for a couple of backup dancers. Particularly noteworthy were his renditions of the Curtis Mayfield classic "Move on Up" and the Steve Miller Band's "Fly Like an Eagle," both feel-good, empowerment anthems.
Seal's 1991 debut album was described in the Los Angeles Times (where he was called "less ambitious" than Terence Trent D'Arby) as "a very promising introduction." That turned out to be true as Seal went on to eclipse D'Arby, another British pop artist, in popularity. Seal is still a household name, known not only to those who were around to fall in love with his first album but also to their children.
Seal jumped down from the stage and strolled briefly through the audience and was met with genuine love and appreciation for him and his music, which has consistently remained high quality and authentic. By the looks on the faces of many of the older fans in the audience, Seal's music has been the soundtrack of their lives. One of those fans was the Upper West Side's Valerie Williams, who was there with her friend Emily. So enthusiastic and animated about Seal that her pearls bounced as she spoke, she said, "All these years Seal has not lost a notch on his voice. He hasn't lost his touch. The classics were amazing and his older stuff was a nonstop party."