'Sorry to Bother You' is trippy—Take that trip!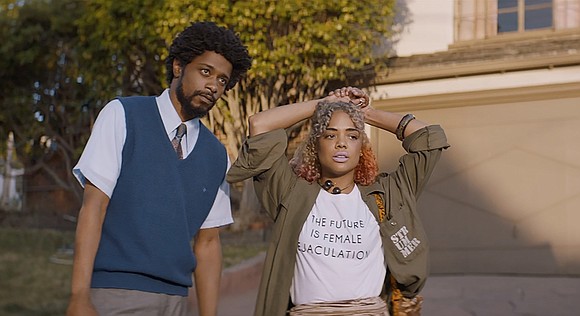 "Sorry to Bother You" is written and directed by Boots Riley. There are many spoiler alerts so it's hard to really push into what makes this film work, but it's worth the trip, and it's "trippy."
The main character in Riley's fantastical world is a telemarketer played by Lakeith Stanfield.
Wait for an African-American telemarketer who smashes the glass ceiling and rises through the corporate ranks by finding his inner "white voice," an issue—no doubt—for his activist girlfriend, played by Tessa Thompson.
In case you miss the tone, this film is a satire from hip-hop recording artist Riley. He's an artist filled with ambition and as the writer-director, his film has some very messy parts, but because it is—again—a satire, it's easily forgiven and blessed. The real theme is about African-American identity in a "let's make America great again" poisoned social climate where success often tends to be defined as selling out.
The cast is strong and impressive, with stable names and break-out discoveries such as Lakeith Stanfield, Tessa Thompson and Jermaine Fowler.
Remember, "Sorry to Bother You" is a trip to go with it. It takes place in an alternative version of present-day Oakland, Calif., where Cassius Green (Stanfield) dummies his credentials for a telemarketing job. He's caught in the deception but gets the job anyway because all a person has to do is stick to the script, and he can read.
In his personal life, he wonders about the meaning of life and his place in it with his girlfriend Detroit (Thompson). Cassius has a mini-crisis of conscience. Much like the defective garage door to his bedroom (yes, his bedroom), his life is out of balance. He's four months late in rent there, with his uncle (Terry Crews) weighing in on his future.
Riley throws a mirror up for reflection of our capitalist dreams and drives. Everywhere there are billboards and television ads that push the need to consume and to feed the greedy corporations.
At first, Cassius struggles to earn commissions in the telemarketing job, and a clever visual device drops him literally into the homes he's calling, showing how hard it is to get customers' attention. But when his colleague (Danny Glover) strongly advises him to use his "white voice" (dubbed by David Cross), things suddenly turn around. Another telemarketer, Squeeze (Steven Yeun), notices the impact and is convinced he can help them unionize and demand fair wages and benefits. But before justice can begin to spin, Cassius gets promoted upstairs to play with the big boys, invited to the inner sanctum of "power callers."
The promotion is an issue for Detroit, who works two jobs and is also a secret activist. Cassius' elevated position places him at the crossroads where a person truly learns what they are made of, or not.
The plot is thready. He's drawn into the orbit of successful people with awful and expensive habits, as represented by the coke-snorting, worry free kingpin Steve Lift (Armie Hammer) and his mad scheme to increase human productivity via genetic experimentation. Naturally, there will be a clash among union agitators, (Left Eye) protestors and the WF squad, but it drags on leaving nothing of substance to the story.
To recap, "Sorry to Bother You" is a trip. A wonderful trip but a trip. So pack your expectations accordingly.