Surviving an overnight flight
Megan Pinckney | 7/12/2018, 2:11 p.m.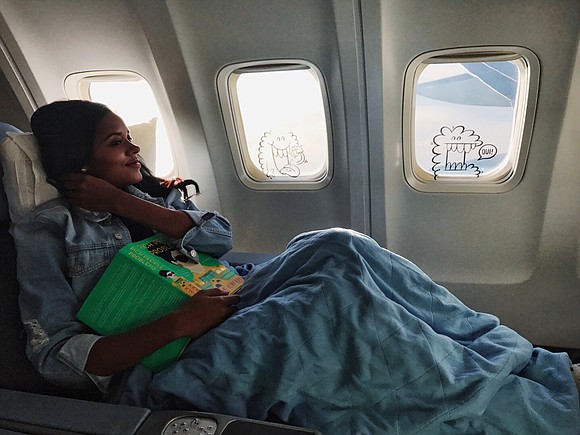 Overnight flights make the most sense if you're flying quite the distance because they allow you to start your day at the start of the day. That not only helps with jetlag, but it also allows you to make the most of your first day in your new destination. But just because it makes sense doesn't make it easy. In fact, I think most people would rank sleeping on a plane as one of their least favorite experiences. Although the process can be daunting, there are a few things you can do ahead of time to help you get the best sleep possible.
The first thing you should do in preparation for your overnight flight is to choose the right seat for you. If you're flying in first-class every seat is a winner, but if you're flying coach your seat assignment can single-handedly determine the fate of your trip. The best seat on any row is a window seat in this case because it gives you something to brace your body on for hours while you try to sleep peacefully (it also prevents anyone from waking you up to move past you). However, if you know you're the person who wakes up several times in the middle of the night to use the restroom, you should probably opt for an aisle seat. Choosing an exit row or premium seat can also increase your chances of being comfortable. Be sure to check in exactly 24 hours in advance so that you have as many options as possible for a good seat assignment.
The type of clothing you wear can also affect your flight. Choose items that are really comfortable and breathable. You want things that won't rub against your skin or leave indentions. Think loose, cotton pieces. I personally always avoid jeans because I like to have as much mobility as possible in my legs, and I would never wear jeans to sleep on a normal night. But being comfortable does not give you license to dress sloppily or like you're doing the walk of shame. A plane is still a public place, so leave those sweatpants with holes at home. Also, be mindful of your feet. If you're wearing open-toed shoes be sure to bring socks to keep your feet warm while in the air. If you're wearing close-toed shoes be mindful that your feet will probably swell while in the air and you'll be putting those same shoes back on. Make good decisions. And don't forget a light jacket, because even if you don't use it to keep warm, it can double as a pillow or a barricade between your body and the armrest.
Be sure to treat your body right before taking a long-haul flight. Hydrate yourself, but do it much earlier in the day so that you don't spend the entire flight emptying your bladder. Eating a healthy, balanced meal is also a necessity for preparing your body to sit for such a long period of time. You'll need protein, veggies and the right amount of carbs to keep your body feeling good. The hours before a long-haul flight are not a time to try new food. You wouldn't want your body to react to it negatively and be forced to deal with that 30,000 feet in the air.