Civil rights groups, Democrats oppose Trump's SCOTUS pick
Stacy M. Brown (NNPA Newswire Contributor) | 7/16/2018, 11:24 a.m.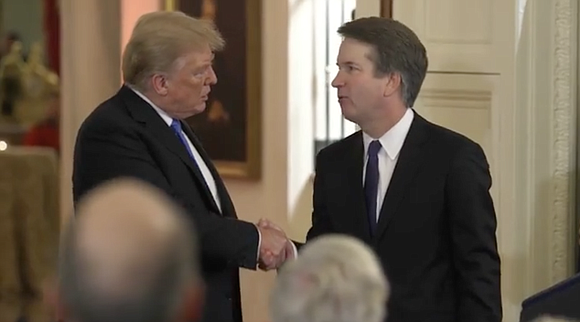 Lawmakers also voiced their concerns.
"Whether or not the Supreme Court enforces the spirit of the words, 'Equal Justice Under Law,' is determined by the individuals who sit on that court," said Democratic California Sen. Kamala Harris. "Brett Kavanaugh represents a fundamental threat to that promise of equality. I will oppose his nomination."
Democratic New York Sen. Kirsten Gillibrand also opposed the nomination.
"One things already clear from his record, [Kavanaugh] can't be trusted to safeguard rights for women, workers or to end the flow of corporate money to campaigns," Gillibrand said.
After the announcement, Kavanaugh said that his judicial philosophy is straightforward.
"A judge must be independent and must interpret the law, not make the law," Kavanaugh said. "A judge must interpret statutes as written. And a judge must interpret the Constitution as written, informed by history and tradition and precedent."
In a statement about the nomination of Brett Kavanaugh, the NAACP said that the next Supreme Court justice will play an outsized role in determining whether African Americans move forward in our journey toward achieving full equality, whether we simply tread water for the next three decades, or whether we slide backward toward our former status as second-class citizens.
"Brett Kavanaugh is a dangerous ideologue whose extreme views on civil rights would solidify a far-right majority on the Supreme Court. Coming after Neil Gorsuch's appointment, a Kavanaugh confirmation would re-make the Court in President Trump's own image," the NAACP statement said. "This prospect is unacceptable to the American people, and the NAACP is ready to lead the fight of a generation."
The NAACP statement continued: "We will fight this Trump nomination with everything we've got. Our state conferences, branches and units are fully engaged to tell their Senators that our civil rights hang in the balance and that Kavanaugh must be defeated."
Stacy Brown is an NNPA Newswire Contributor and co-author of "Michael Jackson: The Man Behind the Mask: An Insider's Story of the King of Pop." Follow Stacy on Twitter @stacybrownmedia.