The Alvin Ailey School strikes a 'Pose'
Zita Allen | 7/19/2018, 10:28 a.m.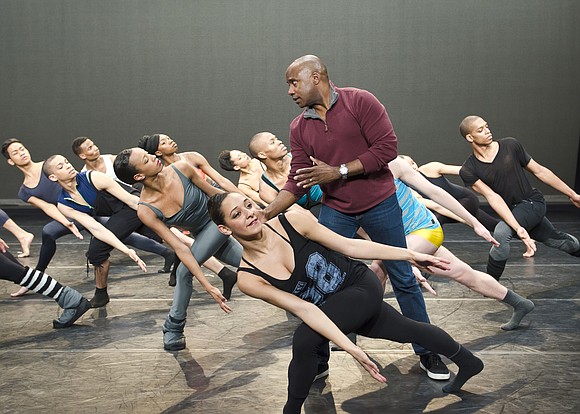 "Pose," the new FX television show, is primarily about the often overlooked transgender members of the LGBTQ community and the 1980s ballroom scene associated with the dance craze known as voguing. But with the help of a thinly veiled location that turns out to be The Ailey School, another kind of dance also plays a pivotal role in this musical/dramatic comedy, as one of its characters, a gay Black youth named Damon, struggles to make his dreams a reality.
In recent interviews with Ailey School co-director Tracy Inman and actor Ryan Jamaal Swain, the Amsterdam News learned how The Ailey School strikes a pose in the TV show, whose success was just reaffirmed with the announcement that FX is picking it up for a second season.
That "Pose" is special is obvious the instant a sparkling marque flashes onto the small screen and the raspy voice of Tony winner Billy Porter, who plays a surly ballroom MC, booms emphatically, "And, the category is Live! Work! Pose!"
The Ailey School appears in the very first installment, when Damon (played by Swain) is kicked out of the house by his parents when they learn that he not only skipped school to take a ballet class but also is gay. After fleeing to New York City, Damon sleeps on park benches and dances on the street for small change before being rescued by the "mother" of one of the "houses" at the heart of the ballroom culture that gives shelter to runaways who, as Porter's character says, "keep coming every day, as sure as the sun rises."
But thanks to a dance audition the "mother" wrangles for him, Damon winds up at—you guessed it—The Ailey School. Sure, the name has been digitally transformed into the fictional New School for Dance, but the building is unmistakable. So, too, is something else—the influence of The Ailey School's spirit in the journey of Damon.
What is also obvious is the help "Pose" received from Inman, The Ailey School's co-director with Melanie Person, who is choreographer and consultant. Working closely with the "Pose" producers, including Emmy Award winning "Glee" creator Ryan Murphy and transgender activist and writer Janet Mock, Inman shares both the nuts and bolts of Ailey's signature Horton technique and that intangible Ailey spirit that infuses the very air one breathes when entering a lobby dominated by a gigantic poster of Alvin Ailey himself.
Inman is, after all, well-equipped for this invaluable behind-the-scenes role. He was once an Ailey School scholarship student himself, at the beginning of a dance career that includes working with Judith Jamison before she took the reins of the Ailey Company, dancing with Ailey II, performing in a European production of the Broadway hit "Cats," and joining the Alvin Ailey American Dance Theater before going on to teach at AileyCamp and eventually assuming the position at The Ailey School he has held for the past 18 years. Inman knows whereof he speaks when he shares both the technique and the heart and soul of Ailey with the producers and actors of "Pose."
"This is important," said Swain who, months before filming, even took private lessons with Inman while also joining his regular classes twice a week. Both Swain and Inman said it is important because in many ways "dance is Damon's lifeline."
"Dance gives many young people a direction, something to aspire to," Inman added. "You know people often say the arts are really crucial in a child's overall development. Well, it's true."
Swain said the fact that some of Inman's students shared scenes with him was also helpful.
Referring to one scene in which Damon is thrown out of class for being late, Inman said sometimes young aspiring artists need a wake-up call. "I've seen youngsters who don't always make choices that are beneficial to them in the long run and find myself sitting saying, 'Listen, you have to understand that any choice you make is going to have repercussions,'" he said.
Inman said he also shared with the producers the sense of his role in nurturing students. "Helping to take care of the students is part of the Ailey legacy the way Ms. Jamison and Mr. Ailey have passed it on," he said.
Swain agreed. Not only does it teach discipline but also, "You can't hide behind anything with dance," he said. Describing the pleasure of working with Ailey's Inman and everyone else at The Ailey School, Swain said at the heart of the experience is something the actress who plays his dance teacher on "Pose" might have picked up from Inman when she says to her students, "Dancing is not about rehearsing, dance is living it." Swain said she also says, "Dance happens when you take something that is choreographed and make it look improvised."
"As a young Black queer person," Swain said, "there are so many things in society that ask us to conform. But, in dance, no matter if you're doing an arabesque with your leg at six o'clock or just half way, if you're sending your energy out somebody's going to feel it."
He said he has seen that happen when watching Ailey dancers. "For them, movement was so organic that there was no doubt who they were as people," he said.
It's that same authenticity Inman hopes folks see when they watch "Pose," thanks in no small measure to the folks at The Ailey School.