Diaspora meeting with our historic pioneers
Herb Boyd | 7/19/2018, 10:22 a.m.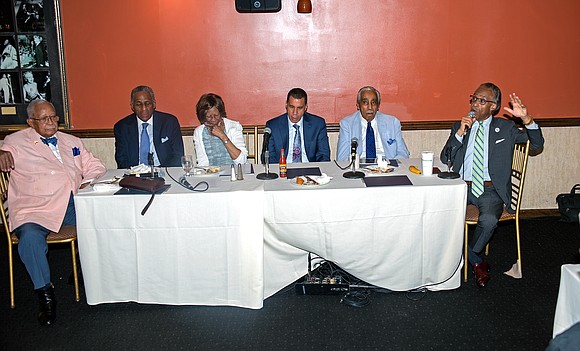 It was a special day in Harlem, and 50 was the magic number June 25 when the same number of notable New Yorkers and our historic pioneers were respectfully invited by co-hosts, the Rev. Al Sharpton and Lloyd Williams, to a 50th anniversary breakfast summit of memory and celebration. It has been a long time since Sylvia's Restaurant was packed with such a coterie of dignitaries, each reflecting on personal and collective experiences at the core of New York's urban history.
"While all of the attendees are unto themselves, well-known," said Williams, "because everyone is so busy, you'd be surprised how little they truly know each other. They may know the name but can't recall the face, and vice versa."
After Williams called the meeting to order, Sharpton gave some powerful remarks on the meeting's purpose. He addressed the times we currently live in—Trump; Supreme Court appointments; children being separated on the Mexican border and hundreds of those children now placed in Harlem shelters just a few blocks away from Sylvia's. And he addressed the need for the clergy to step up and provide the visionary leadership and direction badly needed. Sharpton and Williams thanked Skip Dillard and WBLS for co-sponsoring the breakfast.
This citywide diverse assembly of business persons, elected officials and former iconic office holders, civic leaders, entrepreneurs, community activists, clergy, educators, media and arts and culture mavens came together representing a cross section of New York's Diaspora (Caribbean, Puerto Rican, Dominican, African and African-American). It was not only an opportunity for them to know each other better but also to recount a few of the hallmarks of their illustrious careers over the past half-century.
A gallery of stunned and amused expressions was often seen as a rosary of memories spilled from the participants—they learned by turns a little bit more about the political ascendance of former NYC Mayor David Dinkins, former U.S. Rep. Charles Rangel, civil rights legend Hazel Dukes, former NYS Gov. David Paterson and how former NYS Comptroller H. Carl McCall handled more than $120 billion in the pension fund as the state's first African-American comptroller.
The two hours allocated were well spent and went by quickly. The comments and remarks from the elders—Rangel, Dinkins, Dukes, McCall and Paterson—were representative of Diaspora pioneers in attendance from Brooklyn, Queens, the Bronx and Manhattan. The room was bubbling over with history, most of it informative, humorous and inspirational, particularly for some of the younger members in the audience.
And the remarks combined all of the above values as when Dinkins, recalling the importance of the people who helped him to become the city's first Black mayor, cited a piece of folklore about how a turtle at the top of a 10-foot pole got there. "He certainly didn't get there by himself," Dinkins quipped. When asked how he felt about becoming the city's first Black mayor, he said, "If you like public service, there's nothing like being the mayor of New York City."
In his reflection on the past half-century, Rangel fondly remembered his predecessor the Rev. Adam Clayton Powell Jr. "If you read the book 'King of the Cats,' you will get some idea of how influential Adam was on international and domestic issues," he said. "That's why it took months even before people knew my name."