Diaspora meeting with our historic pioneers
Herb Boyd | 7/19/2018, 10:22 a.m.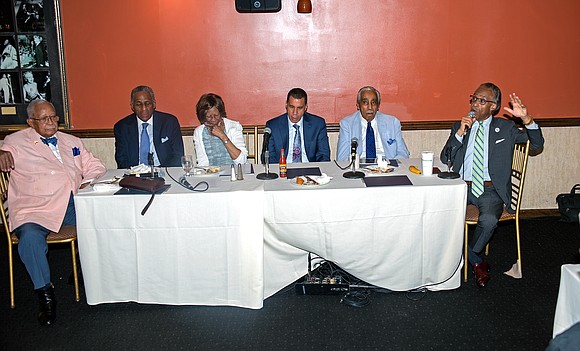 Paterson said he was in grade school 50 years ago and remembered that after Dr. King was assassinated, his father, (the late great) Basil Paterson, when seeing how difficult it was going to be to attend Dr. King's funeral service at Ebenezer Baptist Church in Atlanta, Ga., decided to go to Memphis and participate in a King memorial march called by the same sanitation workers who Dr. King was supporting, resulting in his assassination in Memphis. Later he would elaborate on Harlem's legendary Gang of Four, agreeing with Bishop Herbert Daughtry that the late Herman Denny Farrell was in fact, an original member, not Percy E. Sutton. But he received his greatest response when he answered how he became the state's first Black governor after Eliot Spitzer's resignation. "That was the best benefit I ever got from sex, and I wasn't even there," he cracked.
Dukes regaled the gathering with wit and memory, recounting how she broke the racial barrier in Nassau County and became a stalwart in the NAACP. "Two people were instrumental in my political development," Dukes said, "my 'dad' Basil Paterson and my 'big brother' Percy Sutton. They convinced me that I could be a leader." She reminded folks that she was born in Montgomery, Ala., and later moved to New York and integrated Roslyn, Long Island, and shortly thereafter, became the fifth member of 'The Gang of Four.' "I have earned my stripes," she added.
McCall also had fervent personal memories of Percy Sutton, recalling that he was among the first members of the community "to reach out to me" when he arrived here from Boston. "That, and working with David Dinkins on voting registration, meant a lot to me and facilitated my growth and development."
As the morning progressed, it increasingly became a very organic session that included the three Als—Sharpton, Vann and Taylor —and two exceptional women, Dukes and Jackie Rowe-Adams, who are both included in the "transformative 44 women" for the 44th anniversary of Harlem Week, the longest week in the year, Williams added.
Several in attendance echoed a call for follow-up meetings to continue the fruitful dialogue. "I want to thank Lloyd and Rev. Al for giving us a day where we have the opportunity to discuss where we were, where we are now, and where we need to go from here," said Rangel. He added that another meeting was necessary "for us to lay out agendas."
Dinkins agreed, and noted, "We don't always have to agree. A whole lot of folks didn't vote for me." He concluded with a special shoutout to Attorney Michael Hardy, "who got me out of jail."
Williams summoned the memory of Percy Sutton at the close, invoking the great man's word "common." He said, "By realizing what we have in common we can become communal. If we are communal, we will communicate, and when we communicate, we will become a united community."
When the second meeting assembles in September, that "common to community" concept will once more get a chance to solidify and ensure that the Diaspora will not be uninformed. Then there will be time to hear from cultural maven Vy Higginsen, Assembly Member Inez Dickens, representatives Adriano Espaillat and Gregory Meeks, Bronx Borough President Ruben Diaz Jr., Arva Rice, president of the NY Urban League, Ed Lewis, co-founder of Essence Magazine, the Rev. Jacques DeGraff and others wise enough to wait their turn to add their voices to an increasingly important historic conversation—and more are needed.
Other prominent invitees, because of long-standing schedule conflicts, could not be in attendance and were missed, including Elinor Tatum, the Rev. Michael Walrond, the Hon. C. Virginia Fields, the Rev. Calvin Butts III, Councilman Bill Perkins, Brooklyn BP Eric Adams, Walter Edwards, Barbara Askins and the Rev. Marvin Moss.
Throughout the Diaspora of New York, all are waiting for the next meeting, which will be called in September. We'll keep you posted.