Disney finds a new way to attract new fans through youth sports
Vincent Davis | 7/19/2018, 11:51 a.m.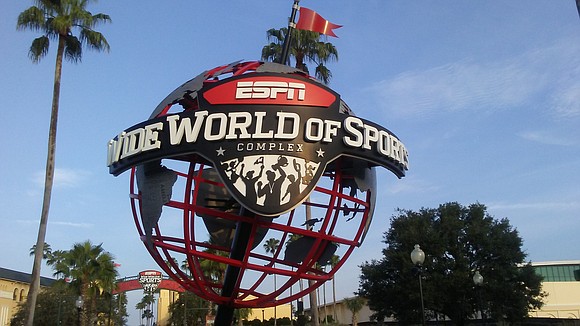 The Walt Disney Co., one of the world's leading producers and providers of entertainment, has found another way to perpetuate their Mickey Mouse brand to future generations and cultures around the world. Simply, it's through youth sports.
Disney is taking youth sports, such as the average local summer basketball tournament or Little League program and their participating teams, to a whole new level. By constructing multiple athletic facilities on their resort properties near Orlando, Fla., the ESPN Wide World of Sports Complex at Walt Disney World Resorts, and forging  partnerships with the NBA, Pop Warner, AAU, Varsity Spirit and various other youth sports organizations, Disney has put themselves in position to capitalize on the expanding youth sports market while staying comfortably in front of their primary target audience, children and their parents, as they do with Disney cartoons, theme merchandise and their theme parks, but through sports.
It's estimated that three out of four American families with school-age children have at least one child who plays an organized sport. That's millions of kids just in this country alone, which identifies this demographic as a formidable target audience. 
"We do 60 different sport types," noted Faron Kelley, vice president of Disney Sports, explaining the company's commitment to the youth sports market. "It's what you expect. It's your stick and ball sports. It's soccer, it's football, its basketball, but it's also unique sports. We've done roller hockey. We've done archery. We have done the World Outdoor Games, a lumber jack competition." 
Volleyball, martial arts, gymnastics and competitive all-star cheerleading, which are emerging here in the United States and growing abroad, are also a part of their mix. Along with several of the other indoor sports, the number of cheerleading participants is a major reason for the building of their new 300,000-foot indoor arena that opened on their ESPN Wide World Sports property at the beginning of this year. 
"A number of weekends from January 'til May, you come to the complex and you will see literally, tens of thousands of cheerleaders on-site," Kelley stated.
And when these games and competitions are over, the players, the teams and their families and friends are there in central Florida at Walt Disney World, where millions of patrons vacation or spend the day each year. 
They're hosting at least a hundred different youth sports events a year. Amateur, collegiate and professional. Some are one day. Some are two to five days. They're busy. The venues are being utilized. The synergy between Disney and ESPN, a company they own, enhances their tourism business.
"It gets us to a unique spot that we think no one else can tackle," Kelley emphasized.