Justice When?: Anniversary of Eric Garner's death brings turning point to investigation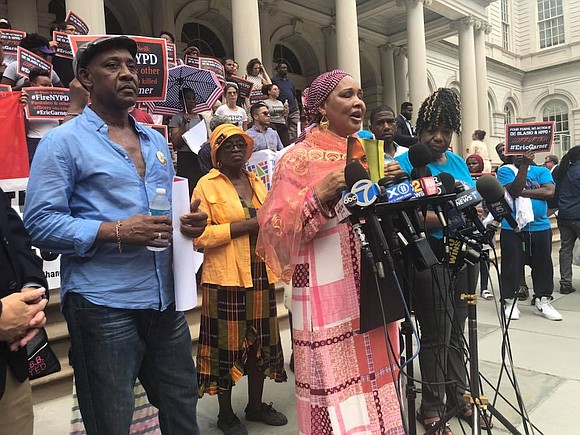 Tuesday marked four years since NYPD officers killed Eric Garner on Staten Island. His mother says the ordeal still haunts her.
"I have sleepless nights and I still have nightmares," Gwen Carr said during a news conference.
The anniversary of Garner's death comes as the NYPD announces it plans to open its own investigation into the 2014 police killing. Because the Department of Justice hasn't made any moves for criminal charges against Daniel Pantaleo, the NYPD officer who killed Garner, NYPD lawyer Lawrence Byrne said in letter that the police department will conduct disciplinary proceedings by Aug. 31. However, on Thursday, the department announced that it plans to begin disciplinary proceedings immediately.
"It has become clear that a definite date by which time a final decision by the [Justice Department] will be rendered in this matter cannot be predicted," Byrne said.
Statement from Gwen Carr, mother of Eric Garner
"The de Blasio administration should never have waited for 4 years or until September because the idea that NYPD couldn't have acted before DOJ has always been a lie. We exposed that September was an artificial timeline this week and it's unacceptable that the NYPD is saying that only two officers will face discipline charges when many more were involved in murdering my son, trying to cover it up and other related misconduct. There were over 5 officers on video using force or failing to intervene as my son Eric pleaded "I can't breathe" 11 times, some officers tried to cover up the killing by lying on the official police reports to leave out the kind of force used against him and others illegally leaked alleged information. It's past time for de Blasio and the NYPD to stop playing games with my son's death and release the names of all the officers responsible for his murder, tried to cover it up, and engaged in other related misconduct, and bring disciplinary charges to fire all of them."
The DOJ said in a statement that it informed Byrne in the spring that the NYPD could move forward with disciplinary proceedings.
"Mr. Byrne's letter does not have any bearing on the decision-making timeline at the Justice Department, and the department cannot comment further at this time," the department said.
Garner was killed by Pantaleo during an arrest for allegedly selling untaxed cigarettes. Pantaleo put him in what appeared to be a prohibited chokehold. The incident was caught on cellphone video, on which Garner can be heard saying, "I can't breathe" 11 times
Monday, Carr and the Rev. Al Sharpton of the National Action Network said they plan to be at the disciplinary hearings for Pantaleo.
"We just want to see justice for my son and we want to see this done," said Carr. "We don't want politics to play into this. We want justice. I am going to continue to fight, and I want everybody to know that I'm in this fight for the long run."
Sharpton added that he met with Mayor Bill de Blasio Monday and explained to him that the family has been waiting for years for some form of justice. Sharpton wants to see all of the officers involved in Garner's killing fired.