Local elected officials reckon with Trump's Helsinki disaster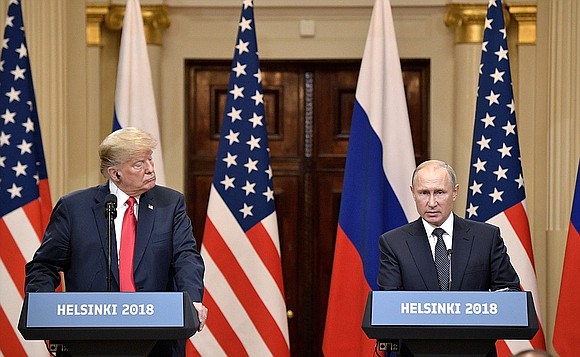 Although President Donald Trump tried to backtrack from the backlash of his meeting with Russian President Vladimir Putin, local politicians believe it is too little too late.
After a backlash to his news conference in the Finnish capital Helsinki with Putin, Trump read a statement saying he now acknowledges Russian meddling in the 2016 election process.
"I accept our intelligence community's conclusion that Russia's meddling in the 2016 election took place," said Trump to reporters in the White House while reading off a sheet of paper. "Could be other people also…a lot of people out there." But the president immediately tried to distance himself from the findings by saying, "There was no collusion at all."
Senior member of the Foreign Affairs Committee and ranking member of the Europe, Eurasia and Emerging Threats Subcommittee Congressman Gregory Meeks said that Trump kowtowed to an adversary in front of the world and embarrassed the United States.
"The Helsinki summit is remarkable insofar as, for the first time, a U.S. President sat in front of the world stage to undermine their own Department of Justice, their own intelligence community, and invited a foreign adversary to do the same," said Meeks in a statement. "When given the chance to denounce Russia's interference in our elections, Trump instead parroted Russian propaganda, pivoting to the 'missing' server conspiracy theory that his own U.S. attorney explicitly debunked in court."
During the Helsinki debacle, when Trump was asked if he believed Putin when he said he didn't meddle or if he believed the intelligence committee, he said, "I have confidence in both parties." He also said he misspoke earlier this week when he said he didn't have any reason to believe Russia interfered in the election.
"The sentence should have been, 'I don't see any reason why it wouldn't be Russia.' Sort of a double negative," said Trump to White House reporters. "So you can put that in, and I think that probably clarifies things pretty good by itself."
The past several weeks the president has shocked even those in the Republican Party. During meetings in Belgium with other NATO leaders, Trump accused Germany of being beholden to Russia because of oil and said the United States puts in more than it gets out of the alliance. Trump said later that he thought the meeting with Putin went "even better" than the NATO meetings.
U.S. Sen. Kirsten Gillibrand took to social media to express her dismay for Trump.
"We just witnessed the president of the United States abdicate his national security responsibilities as commander in chief," Gillibrand tweeted. "When he was given the chance to hold Putin accountable and condemn Russia's interference in our elections, he refused."
U.S. Sen. Chuck Schumer also took to Twitter to outline how he felt the Republican-dominated Senate should respond to Trump, including increasing sanctions on Russia, demanding public testimony from Trump's national security team that was in Helsinki, passing legislation to protect Special Counsel Robert Mueller's investigation and passing an election security bill.