Talking SCHOP! Just a salad will do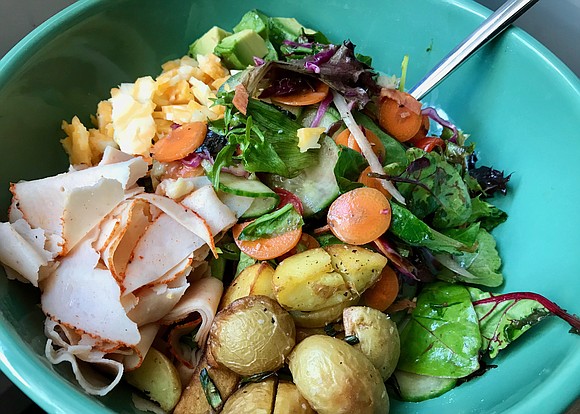 It's hot as heck and I can't take it anymore. Those days when we had that dry high 70s/low 80s were optimal. If we could only dial that up through the end of summer, I would be happy.
The heat tamps down my appetite big time. I opt mostly for cool smoothies or anything with ice in it; the food part becomes hard for me. I do not want to turn on my oven or even a burner for that matter. What does that leave me to do? One word: salad!
A salad is easy breezy. There are no rules. Heck, you don't even need to put lettuce in it. You just need to scan the fridge, your crisper and the pantry, a little choppy-chop and throw it in a bowl. There you have it. Food!
Having recently returned from the New York Summer Fancy Food Show at the Javits Center with copious amounts of food swag, I needed to fashion a meal from some of the more perishable items. The thinly sliced picante roast turkey breast from the Bronx's own A&H Kosher Deli Provisions (@abeles_, www.abeles-heymann.com) was calling a name, faintly, but I heard it—"chef's salad." I acquiesced.
My deal with salads is it is all about the preparation. I cannot stand a salad that is just poorly prepped ingredients, inconsistently chopped, whole cherry tomatoes and unseasoned. That's an unloved salad. Shameful!
My methodology? I thinly slice all of my vegetables (cukes, tomatoes, onion, carrot, cabbage) on my mandolin into a bowl, add favorite dressing, season with salt, pepper and crushed garlic. Stir to combine and refrigerate to let macerate for 10 to 15 minutes (SCHOP! tip: I make extra of this mixture for a quick salad anytime. Lasts for 3 to 4 days and gets better every day. Just add greens, toss and you are good!). Meanwhile, I prep whatever salad greens and other toppings I will use.
When I am ready, I add the salad greens into the macerated vegetables and gently toss to combine all and coat the leaves with the dressing. Taste and reseason with salt and pepper.
The complete salad mixture goes down on individual plates or in bowls. For my chef's salad I used that awesome A&H picante turkey, fresh diced avocado, some steamed mini Yukon Gold potatoes I quickly pan-fried in butter and garlic chives and some Colby Monterey Jack cheese. I would have added a little three-minute boiled egg to the situation if I had it.
And there it is. So if you are invited to my house for a summer dinner, get ready for my insanity on the humble salad. I'm out!
Tonight the next Museum of the City of New York's Unexpected Pairings event, Beer & Chocolate, with Julian Riley of Harlem Blue Beer and Jessica Spaulding of Harlem Chocolate Company, moderated by yours truly, will take place. Visit www.mcny.org for more information and to purchase tickets. Come through!
Happy eating and thanks for reading!
Kysha Harris is a food writer and editor, culinary producer, consultant and owner of SCHOP!, a personalized food service in NYC for more than 15 years. Follow her on Twitter and Instagram, @SCHOPgirl, on Facebook, /SCHOPnyc, and her blog, www.talkingSCHOP.wordpress.com. Questions? Comments? Requests? Feedback? Invitations! Email AmNewsFOOD at AmNewsFOOD@SCHOPnyc.com. Follow us on Instagram, Twitter and Facebook @NYAmNewsFOOD and tag us with #SoAmNewsFOOD with your food finds!