Trump checkmated by Putin
Herb Boyd | 7/19/2018, 10:15 a.m.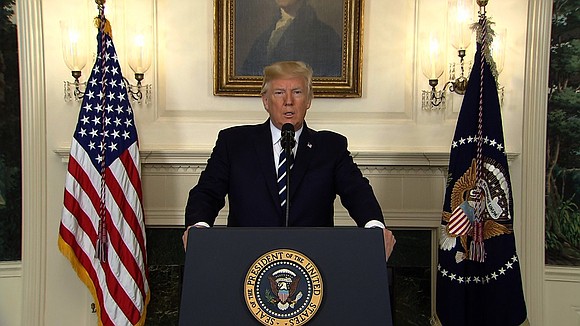 It was generally agreed among pundits that the meeting between Trump and Russian President Vladimir Putin would amount to nothing more than a photo op to shore up his leadership uncertainties. However, it was less predictable that he would use the occasion in Helsinki to excoriate Hillary Clinton and to accept the denials of Putin over intel from his own intelligence agencies.
Jonathan Lemire, the AP reporter, went straight for the jugular in questioning Trump if he believed Putin or his intelligence agencies that had produced evidence to show Russian involvement in the 2016 elections. "Who do you believe?" he asked Trump. "Would you now, with the whole world watching, tell President Putin, would you denounce what happened in 2016, and would you warn him to never do it again?"
If Trump was prepared for nothing else he should have seen this question coming, and the master of distraction quickly dodged it and began the disputation on Clinton and her server.
"You have groups that are wondering why the FBI never took the server," he said, referring to the DNC's hacked server. "I've been wondering…I've been asking that for months and months."
Rather than go after Putin, who he claimed was "extremely strong and powerful in his denial today," as if he could have said anything else, Trump evoked Clinton, asking again about the more than 30,000 emails. "What happened to those emails," Trump whined.
Later, after being rooked by Putin, checkmated, so to speak, and denouncing the intelligence community, Trump tweeted, "As I said today and many times before, I have great confidence in MY intelligence people. However, I also recognize that in order to build a brighter future, we cannot exclusively focus on the past—as the world's largest nuclear powers, we must get along."
When Putin gifted Trump with a soccer ball, it could have been a sucker punch and it underscored a semi-serious discussion on such critical topics as the annexation of the Ukraine and the situation in Syria, although Putin did provide an extensive comment on the crisis there.
"Russia and the United States apparently can proactively take leadership on this issue and organize the interaction to overcome humanitarian crisis and help Syrian refugees go back to their homes," he said. "In order to accomplish this level of successful cooperation in Syria, we have all the required components. Let me remind you that both Russian and American military have acquired a useful experience of coordination of their action, established the operational channels of communication, which permitted [us] to avoid dangerous incidents and unintentional collisions in the air and on the ground. Also, crushing terrorists in the southwest of Syria: The south of Syria should be brought to the full compliance with the treaty of 1974 about the separation of forces, about separation of forces of Israel and Syria."
Another question from Lemire was about Crimea, and Putin, after a moment of hesitation, said, "The posture of President Trump on Crimea is well-known and he stands firmly by it. He continues to maintain that it was illegal to annex it. Our viewpoint is different. We held a referendum in strict compliance with the U.N. Charter and international legislation."
"Today's meeting is only the beginning of a longer process," Trump said toward the close of the meeting. "But we have taken the first steps toward a brighter future and one with a strong dialogue and a lot of thought. Our expectations are grounded in realism, but our hopes are grounded in Americans' desire for friendship, cooperation and peace. I think I can speak on behalf of Russia when I say that also. President Putin, I want to thank you again for joining me for these important discussions and for advancing open dialogue between Russia and the United States."
The reaction to the meeting was fast and furious, with Democrats and Republicans, even conservatives, alarmed that a sitting president could embrace a tyrant and rebuke his own intelligence agencies.
Former CIA director John Brennan's tweet epitomizes the disgust for Trump's performance. He tweeted, "Donald Trump's news conference performance in Helsinki rises to & exceeds the threshold of 'high crimes & misdemeanors.' It was nothing short of treasonous. Not only were Trump's comments imbecilic, he is wholly in the pocket of Putin. Republican Patriots: Where are you???"