'Whitney' docu-film uncovers painful trauma
Kyana Harris | 7/19/2018, 10:34 a.m.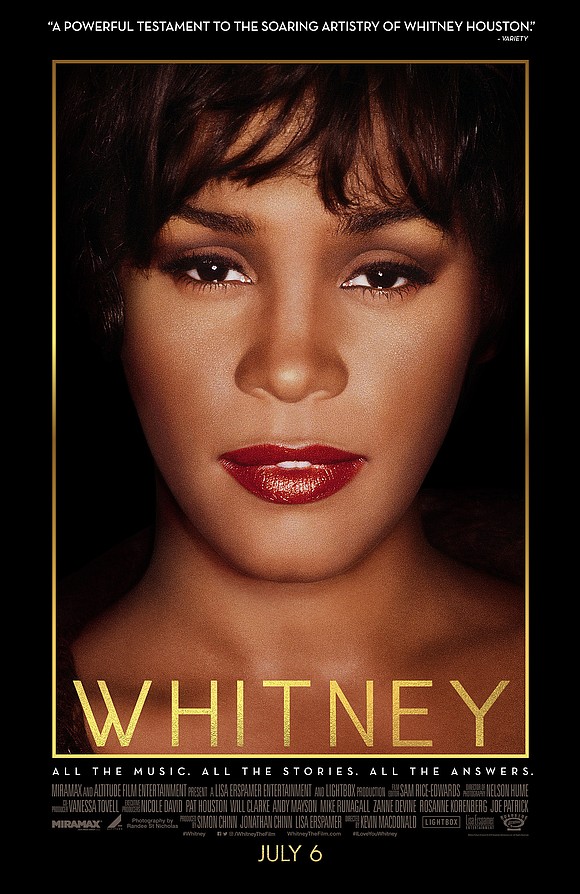 We all knew Whitney Houston, the star. We quietly watched the "Star Spangled Banner" belting, brown-skinned beauty's light dim as the weight of drug addiction usurped her career. Oscar-winning filmmaker Kevin Macdonald's new documentary "Whitney," which premiered July 6, offers exclusive access into Houston's private life via her close family members and staff.
This docu-film is starkly different from Showtime's 2017 documentary by Nick Broomfield about Houston entitled "Whitney: Can I be Me." The first attempt at personifying the music icon lacked her family's support, making it difficult to get an accurate image. It is possible that the family didn't want to be involved because they had their own documentary in the works.
The previous documentary heavily focused on unreleased footage from a 1999 tour. While on tour, the filmmaker spoke to concerned staff members who forewarned viewers of Houston's spirit being broken. Through takes of the ghastly thin star enduring the fast-paced life of touring, her troubled marriage, alleged relationship with a female friend and battle with addiction were discussed.
In an interview, sister-in-law and executive producer Pat Houston said, "The documentary seemed like a surefire way to salvage her reputation after the self-destruction and drug addiction of her final years. Whitney herself back in the late 1990s started doing a documentary. I knew it was something she wanted to do. And I just wanted to finish it, put it to rest, so that we could celebrate her in the way that she should be celebrated—through her legacy of music."
The film begins with a montage of footage from the 1980s, highlighting her quick rise to fame during that era, backed by her song "I Wanna Dance With Somebody." This song was a single from her second studio album, which was the first to debut at the top of the Billboard 200 for a female artist. She held that position for 11 weeks.
It then scales back to the beginning of her story, as a child growing up in Newark, N.J. The filmmaker's decision to provide historical context is necessary. The Newark riots and the general unrest that plagued the city made for a clear contrast to her life once she acquired fame. Houston was able to reach mainstream success despite being an African-American girl from a rough neighborhood.
The family's involvement allowed insight to her upbringing and unconventional family dynamics. Whitney and her older brothers were mostly raised by other families and relatives. This fact makes a case for the criticism of her being a mother while never actually seeing what that role entailed as a child. Nevertheless, the film addresses the fact that the relationship between Houston and her daughter Bobbi Kristina was strained because of constant touring coupled with addiction.
Chronicling her rise to stardom, the filmmaker begins with rare footage of Houston singing in church as a teen. Her family's history with music is rich—her mother Cissy Houston sang background vocals for Aretha Franklin, Elvis Presley and other greats. The 2018 documentary emphasizes Houston being groomed by her mother to be a star with gospel roots.