Classical Theatre of Harlem's 'Antigone' draws parallels to today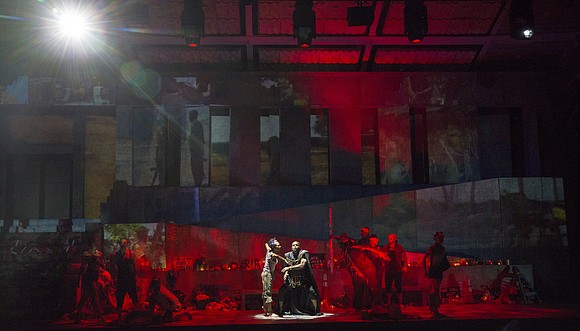 Go and see what happens to Creon for his decisions. At the end of the production, which by the way, as all Classical Theatre of Harlem productions do, contains a lot of funky, humorous moments. Something very real and very profound happens on the stage as the names of Trayvon Martin and many who died unjustly are projected onto the outer walls of the stone set. Classical Theatre of Harlem's "Antigone" also has a chorus that not only does the job of a chorus in Greek Tragedy, filling in some of the storyline through words and song, but also does so with magnificent voices. The choreography by Tiffany Rea-Fisher is stunning to behold as the people of Thebes share their despair and their joy. This production has brilliant, passionate direction by Carl Cofield.
The cast is superb and consists of Ty Jones, producing artistic director of Classical Theatre of Harlem as the cruel Creon; Alexandria King as the bold Antigone; marvelous chorus members Denzel Fields, Nedra Snipes and Ryan Alvarado; Avon Haughton as the brave Haemon, trying to stand up for what's right; Adaku Okpi as the loving, but steadfast voice of reason, Eurydice; Ava McCoy as the frightened Ismene, Antigone's sister, not willing to stand up against the King's edict and bury her brother; and Khalil X. Daniel as Teirasias. Daniel gives a very stirring performance that dramatically brings the story to the next stage. The remainder of the company was perfect as they portrayed guards and dancers and includes R.J. Foster, Lamien Leroy Gibba, Anthony Vaugh Merchant (the brilliant comic relief), Jovanna Parks, Samantha Barriento, Daniela Funicello, Brynlie Helmich and Thomas Varvaro (dance captain).
The free production runs through July 29, Tuesday to Sunday at 8:30 p.m., and is 60 minutes long with no intermission. No reservation is required. If the show needs to be canceled because of inclement weather, Classical Theatre of Harlem will post the cancellation on its website and social media pages. For more information, visit www.cthnyc.org.