'The Peculiar Patriot' is powerful at NBT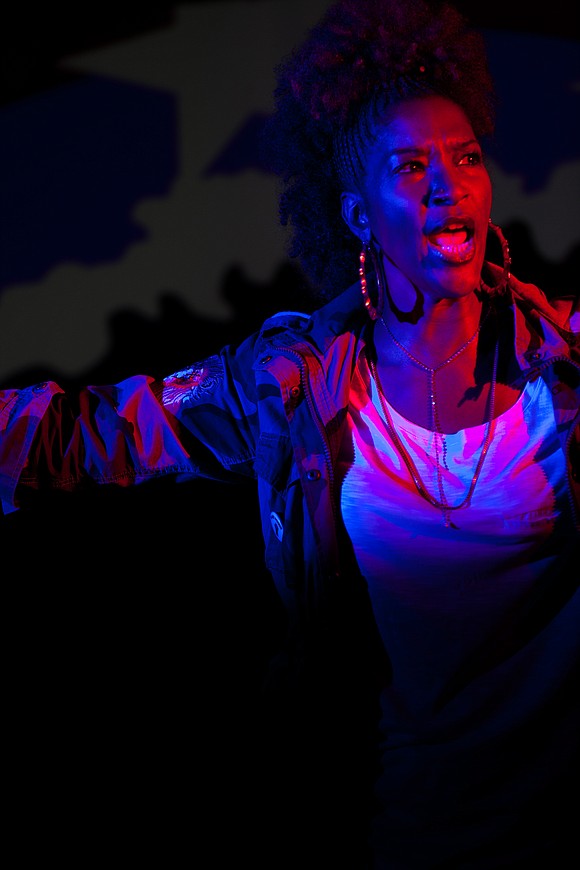 them of their humanity.
This play teaches you to never judge someone. The names of LaQuanda's friends are some stereotypical nicknames like you hear people called in the Black community. When you first hear her talk about people such as Pookie, you might sit there and say, who cares, until you hear what's going on. Some characters also have regular names such as Pablo, Curtis and Larry. Trust me—everyone that LaQuanda talks about is captivating to hear about. Peterson's portrayal of the various characters is mesmerizing. You can see her get into the zone. Because Peterson gives you a plethora of information during the play, every show is immediately followed by a "talkback," so be prepared to stay for that as well.
Peterson's dedication to speaking "truth" on what is happening with Blacks and incarceration is something that is so brilliant she has just been awarded a $100,000 grant from Agnes Gund's Art for Justice Fund and will be doing a national tour of this play 2018-2019. This play has superb, spot-on direction by Talvin Wilks.
I don't normally go into the background of the playwright/performers I experience, but I will make an exception in Peterson's case to demonstrate to you why this lady knows what she's talking about and why you need to go and experience her passion. Peterson is also a poet, author, educator and youth advocate. She authored a book called "ALL DAY: A Year of Love and Survival Teaching Incarcerated Kids at Rikers Island." She has been committed to incarcerated youth populations for more than 20 years professionally and artistically, working with youth detained in Rikers Island as a teaching artist, re-entry specialist, program counselor, GED teacher and life skills workshop facilitator. She has been featured in Ava DuVernay's Emmy award-winning documentary "13th" and was a consultant on Bill Moyers' documentary "RIKERS" on PBS. So Peterson isn't just talking the talk—this lady has walked the walk!
"The Peculiar Patriot" will play through July 29. National Black Theatre is located at 2031 Fifth Ave., between 125th Street and 126th Street. Be warned, there is plenty of profane language, but it is appropriate to the characters. For tickets, go online at www.nationalblacktheatre.org or call NBT at 212-722-3800.