Quincy's blast at Umbria Jazz Fest and reviews
Ron Scott | 7/26/2018, 11:10 a.m.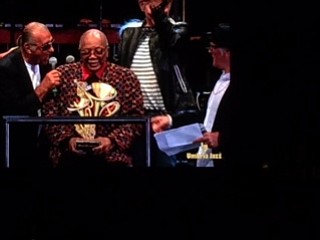 Just when it seemed the best of the Cuban pianists had already been seen, Jones introduced Rodriguez, a young man he befriended and assisted in getting to the United States some years ago. He played the popular hit "Manteca" as he ran through classical licks and Cuban-Latin jazz flavors along with his countryman Martinez, a fine young conguero, who is forging his own path while acknowledging the ground work of the great Candido.
Jones spoke briefly about his active involvement with Martin Luther King Jr., Nelson Mandela and his 15 minutes with Pope Paul III. Bridgewater, Austin and Take 6 went into R&B mode with a nod to Marin Gaye's "What's Going On," and "Moody's Mood for Love" with Austin and Take 6's Mark Kibble singing lead, followed by the party song from the Jackson-Jones collaboration, "Wanna Be Startin' Somethin.'" Music was also dedicated to his many film scores and love of Italian films inspired by one of Jones' mentors,
Joseph Marconi.
A special moment came that evening when Jones was presented with the first Umbria Jazz Award. Jones thanked the festival officials and discussed his long love affair with Italy. All the special guests and orchestra came together on "Let the Good Times Roll," conducted by Jones. "Performing with these great musicians in celebration of Quincy was surreal," said Kibble. Some felt the show was a little long, considering it started at 9 p.m. and ended at 1 a.m.
It was a celebration for Quincy Delight Jones, born March 14, 1933. Within in his six-decade career, his roles encompass composer, arranger, conductor, instrumentalist, record company executive, magazine founder, multimedia entrepreneur, humanitarian, investor and record, film and TV producer. He has a record 79 Grammy Award nominations and 27 Grammys, including a Grammy Legend Award in 1991.
Ideally, a celebration or tribute to the genius of Jones would have to be a recorded radio or television (PBS) series that would run over a month's duration at best.
At the after-party, Jones joined friends such as Take 6 and Patti Austin. At this point, it was 3 a.m. and he was still hanging tough. I asked what this night meant to him. His response: "It makes my soul smile."
Over the days that followed, one of my favorite performers was the R&B group the New Orleans Mystics. One morning at breakfast, one of the group's co-founders, Michael "Soul Man" Baptiste, humbly mentioned to me they were a group doing music from the 1960s—the Temptations and Motown sound. The description was more than an understatement.
The Mystics hit the stage in that Temptations, Four Tops, Smokey Robinson and the Miracles gear, the red suits with sequins, or yellow sequined sports jackets with tan pants and the boots. Hey, having seen all those groups at the Apollo Theater in Harlem, I had to stand right at the stage and pay attention to make sure they weren't perpetuating.
The Mystics had me singing the words to hits such as "Ain't Too Proud to Beg," "I Know I'm Losing You," and "Same Old Song." The audience danced frantically and sang the English lyrics, considering most didn't speak English but they were familiar with these blasts from the past.