'Harry Potter and the Cursed Child' : Theatrical brilliance at its best!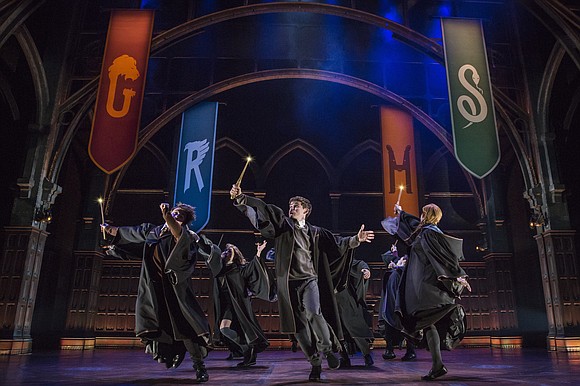 I am potty about Potter and you will be too! "Harry Potter and the Cursed Child, Parts One and Two" is the most unforgettable theatrical experience you will ever have. Playing at the Lyric Theatre, it is based on an original new story written by J. K. Rowling, Jack Thorne and John Tiffany, and a new play by Thorne. It is also directed by Tiffany. The storyline is so engrossing and has all the elements you would expect, Harry Potter, Hermione Granger, Ron Weasley, Draco Malfoy, Moaning Myrtle, Lord Valdemort, Albus Dumbledore, Aunt Petunia, Uncle Vernon, cousin Dudley and Hagrid, plus a lot of other characters, along with Hogwarts, wizards and so much more.
This play is creative, original, clever, funny, entertaining and captivating. You won't be able to take your eyes off the stage. I suggest you go to see the two parts the same day, but just know, get to the theater early so that you can be in your seat for the entire show. The Saturday shows are 2 p.m. and 7:30 p.m. "Harry Potter and the Cursed Child, Parts One and Two" brings magic to the theater and will leave you feeling in awe! "Harry Potter and the Cursed Child, Parts One and Two" is theatrical dynamite that will blow your mind and surpass your expectations. It is a phenomenal idea, which demonstrates a wealth of brilliance on Broadway. The cast is absolutely superb! I am also loving the nontraditional casting of the characters. You have to see it to believe it!
The end of each act leaves you begging for more. You won't be able to wait for intermission to be over or for the next part. Although I went into the play with an open mind, I was so pleasantly surprised that it focuses not only on Harry Potter but also on the next generation at Hogwarts, which are the offspring of the original characters named above. I don't really want to tell you more. You need to go to experience what the offspring of these characters are like and the battles they face. Although there are new characters and a new generation, the story has a lot of the elements of the original "Harry Potter" movies, and there are many familiar references. Even if you are not a Harry Potter buff, you will not be lost. The playbill gives the audience a detailed history of the Harry Potter references and background information.
Every aspect of this production is amazing, from the delightful set design of Christine Jones to the fantastic costumes of Katrina Lindsay, lighting design by Neil Austin and sound design by Gareth Fry. When you go, make sure to bring some extra spending money because the souvenirs are marvelous and many. Have a perfect, powerful, profound time as you watch the magic of a stupendous show and be ready at the final curtain to stand and cheer.
For more information, visit