NFL player protests should not distract from social justice issues
JAIME C. HARRIS | 6/1/2018, 9:53 a.m.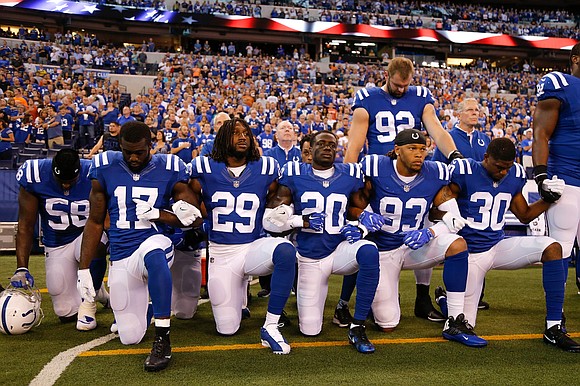 Throughout the history of the fight for Black liberation and equal justice for people of color in the United States, the objectives have often been muddled and derailed by methods and messages. NFL players should not allow history to repeat itself.
The shortsighted and counterproductive attention given to the National Football League's new national anthem policy serves as a distraction from what should be the players' fundamental goal of tangibly addressing social injustices in this country. The expansive pregame protests were initiated by former San Francisco 49ers quarterback Colin Kaepernick during the NFL's 2016 preseason to do just that but have overshadowed the reason players adopted demonstrations.
Last week, NFL owners unanimously approved a new national anthem policy that requires players to stand if they are on the field during the singing or playing of the "Star Spangled Banner" but gives them the option of remaining in the locker room during the ceremonial presentation.
The move was a clear message to the league's predominant fan base, composed of white, middle-aged males with neo-conservative views: The owners have absolute power and control over the Black players, who make up roughly 70 percent of the league.
The policy is more about optics than efficacy. On the surface, it is an ill-conceived, weak policy, yet it serves the purpose of assuaging the pseudo-patriotic fans who disingenuously characterized the protests as a denigration of the military and American flag—led by Donald Trump.
"We want people to be respectful of the national anthem," said commissioner Roger Goodell in announcing the policy. "We want people to stand, that's all personnel, and make sure they treat this moment in a respectful fashion. That's something we think we owe. We were also very sensitive to give players choices."
Actually, the players do not owe the obligation of standing for the national anthem. "I think it was driven by fear of a diminished bottom line … and the underlying factor is that they are afraid of [President Trump]," said Philadelphia Eagles defensive lineman Chris Long, who is white and an avid supporter of player protests and advocate of social justice.
NFL players should focus on winning the war on social injustices permeating a broad socio-economic demographic in the United States and not the battle to protest the national anthem. Trump and a plurality of the owners cannot stop players from openly and often speaking about police shootings of unarmed Black men, inequality in the public education system, racial profiling of Black men and women, unsatisfactory unemployment and underemployment rates among people of color and other issues.
Players should channel their energy and emotion into holding owners accountable for keeping their pledge to contribute large sums of money to address social justice issues. That is far more important than kneeling for the national anthem.