From Wall Street to the pulpit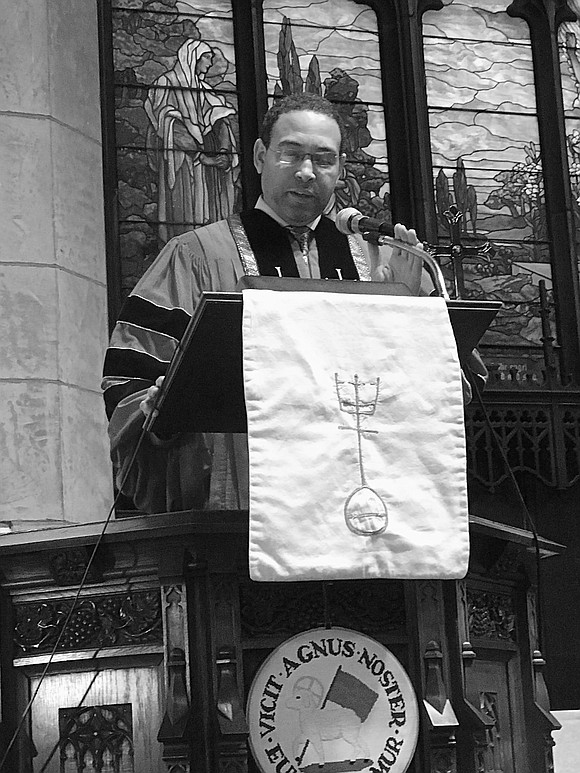 Before becoming involved in the clergy, the Rev. Nigel A. Pearce had his own firm on Wall Street. However, it was a higher power that led him to become one of Uptown's key religious figures.
Pearce, 55, is senior pastor of Grace Congregational Church of Harlem. He's been at the church since 2007, leading the 95-year-old church that has a flock of approximately 140 families on Strivers Row.
Born in Brooklyn and raised in Hempstead, Long Island, Pearce said he originally started his adult life running his own Wall Street firm and got a feeling that something wasn't quite right.
"I knew something needed to make a change in my life," he told the AmNews. "I read Dr. Martin Luther King's biography, which led me to Mahatma Gandhi's biography, and that led me into a whole new world."
The world he's referring to is an interfaith seminary. He attended the seminary after he met famed Harlemite Vy Higginsen, best known for her work with the Mama Foundation for the Arts and the play "Mama I Want to Sing."
"I wanted to learn about other religions," he said. "I was ordained as an interfaith minister and first ended up at a Baptist church in East Orange, N.J.
While leading that church, Pearce was asked to speak at Grace Congregational Church of Harlem. He made such an impression on the congregation that on the third time he spoke, he was asked to become the church's senior pastor.
Pearce said he took the position while also still working at his Wall Street firm. He realized six months later that he had a decision to make.
"I knew that I wanted to be at a place where my soul was being fed," he said. "I felt if I stayed on Wall Street, I'd lose my soul."
Along with leading his church, Peace is also chairperson of real estate division of the Harlem Congregations for Community Improvement. With a passion for affordable housing and fighting gentrification, Pearce's church owns three brownstones with affordable apartments housing 15 tenants.
His religious outreach also goes beyond the walls of Grace Congregational Church. He hosts outdoor services in Marcus Garvey Park Sunday afternoons.
With a continued interested in interfaith work, he's a member of Micah Table, an interfaith group of religious leaders from various faiths who come together monthly to discuss race and social justice issues.